A Dozen Factors for High Visibility in Google Places
If you own a local business that does business with your customers on a face-to-face basis, showing up in Google Places can skyrocket your business. Google Places replaces the former Google Local, and you'll recognize it by the map that shows up for many local searches. Let's say you're looking for a business lawyer in or near Springfield, NJ. If you search for business lawyer Springfield NJ, near the top of the listings you'll find a map with several nearby law firms listed. That's Google Places, and you can easily see how valuable top rankings there are.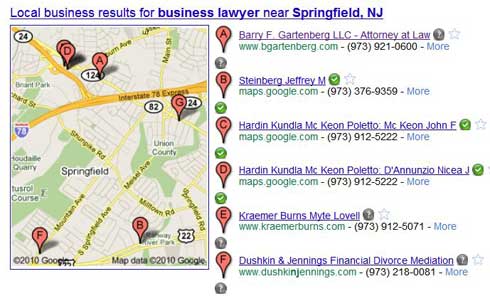 So how to do you get there? Here's a list of a dozen factors that will help you rise to the top.
Claim Your Business — this is an essential first step. You need to claim your listing so that you can make edits to your profile page and add more complete about your business.
Local Address & Phone Number — if you're a franchise the web site may list the corporate address. You need your pages to list your own local address. If you're not a franchise and if you have multiple locations, add a listing for each with the correct local phone number. And make sure your website matches the phone number in Google Places and has full contact information including your name, address and phone number — on every page if possible.
100% Completion in Google Places — As you edit your Google Places profile page, Google will show your completion status. To get the best ranking, this needs to be 100%.
Your Organic Ranking — Where you rank for your chosen keywords in the organic search results has an influence on your local business listing. Optimize your site for good organic rankings in the search engines and you'll reap benefits here as well.
Citations — Add yourself to as many related business directories and websites as you can find for your market niche. With some effort, you can gather enough citations to help you rise in Google Places.
The Right Categories — choose categories carefully and be as detailed as you can.
Product or Service Keywords in your Description — these should match the categories you selected.
Photos — the more the merrier. Photos of your building or storefront, interior office photos, staff, products, etc.
Customer Reviews — Ask delighted customers to write positive reviews for your listing. As with photos, more are better than fewer.
Your Website — Make sure your website covers everything you enter in Google Places, down to addresses and phone numbers.
Your Link Popularity and Resulting Google PageRank — these can also influence your Google Places position.
Your Product or Service in your Title — for example, not just Rank Magic, but Rank Magic Search Engine Optimization.
Finally, here are a few recommendations we've given to our clients:
Include your city and state at the end of several of your HTML title tags, especially on the home page and the contact page. So as not to dilute your keyword optimization, add them at the end.
Make sure you're listed in the following, as appropriate:
Get customers, clients, or patients to review you in as many of those places as possible.