As SEO Budgets Grow, Google Tells You What To Do
Google's been making SEO more difficult
As pointed out in an article at WebProNews, Google has been making SEO more difficult for years, and perhaps that's why a new study from SEMPO has found that SEO spending is still healthy, despite all of the freely available online information that has spread across the web over the past decade or so, such as that in our blog over the past 7+ years.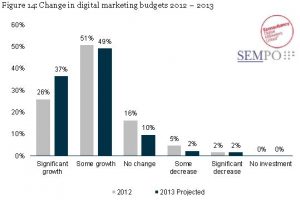 SEMPO put out a 72-page report looking at a survey of nearly 900 companies and agencies. According to SEMPO,
Overall, the report depicts a stable industry, without dramatic changes. Although the practices of search engine and digital marketing may have changed significantly as new tools, algorithms and platforms have come into play, the survey depicts very much the same goals in place.
Google explains what to do  — and what not to do
Recent rumors are circulating about new updates to the dreaded Google Panda and Penguin updates. If those updates have you worried, Google has some advice, particularly if you're planning to hire an SEO for your website.
"Before beginning your search for an SEO, it's a great idea to become an educated consumer and get familiar with how search engines work," Google says, suggesting its Webmaster Guidelines and Google Basics as starting points.


Google also suggests hiring an SEO early in the site development process, when you're planning a redesign or planning to launch a new site altogether. In case you're not familiar with it, Google has a list of questions that it says you should ask an SEO during the hiring process. The article at WebProNews lists those questions and we encourage you to read them and ask them of any SEO you're considering hiring  — even Rank Magic.