Avoid SEO Smoke & Mirrors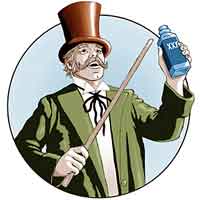 Sometimes I feel like the SEO business is attracting a lot of snake oil salesmen. For some time now, we've been advising prospective clients to consider carefully their selection of an SEO consultant. Three postings in this blog provide sound guidance:
Darren Johner had an article recently in Website Magazine on the subject and he offered three specific pieces of advice.
Beware #1 guarantees
When someone guarantees a #1 ranking, ask them what keywords they will be targeting. They may be able to get you a #1 ranking for an obscure search term, but since no one is typing that into a search engine it won't bring you any traffic and therefore has little to no value.Keep your expectations realistic
Understand that exhausting your resources trying to rise to the top for a common search term may not be your best option. It's often better to target less common search terms for which you can realistically rank well, and will therefore bring in traffic. Educate yourself on what can realistically be accomplished and set your goals accordingly.
Understand there is no magic formula to SEO
Optimizing a website is a long, slow process, sometimes taking months to show results and with no guarantees. SEO isn't about a single specific method of ranking well in the search engines. It's a methodology involving a large number of interrelated pieces — keyword research, competitive analysis, content development and copywriting, link building and more.
Be involved in all steps of the process
Even if you outsource your SEO services you will still need to be fully involved in the process. Some of the steps, such as developing  content or rewriting Web copy may be left to the site owner to complete. Building up quality incoming links is a process that can take years. Regular monitoring of your rankings is another ongoing requirement. In other words, don't expect to write a check and forget about it.