Basic Tips on Web Analytics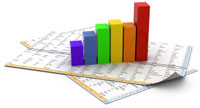 We all have them, but too few of us use them. Web Analytics, site logs, web site statistics … whatever you call them, they're usually provided free of charge by our web hosting company. And if not, you can easily add free Google Analytics to your web site.
Why bother? Some of this stuff might be hard to understand. Sometimes it results in information overload. Some of the reasons people don't use their web analytics are:
It's too confusing
Information overload
What am I supposed to do with all this data?
Won't all this tracking be expensive?
To address the last concern first, many web analytics packages are free. And if you focus on the really important items, it's not so tough after all. Adam Singer wrote a primer on six things to focus on in your web site analytics. Here's a quick list, but check out Adam's article for the real meat on this.
Unique Visitors – how many new people come to your site on a daily/weekly/monthly basis?
Traffic Sources – where do those visitors come from?
Referring Keywords – if they came from search engines, what did they search for the most?
Top Content – what are your most visited pages?
Location – where do visitors come from geographically? If you're a local business, that may be more important than if you have an eCommerce web site.
Campaign Tracking – which of your marketing initiatives are paying off in terms of web site visitors?