SEO Blog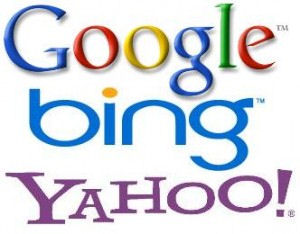 We haven't reported on the respective market share among the three top search engines for more than a year and a half, and we see most trends continuing. About three years ago Google had 64% of all US searches, Yahoo had 16% and Bing had 14%. That changed n 2012 when Google's share improved to 66%, Bing improved  to 15% and Yahoo dropped to 13%, their lowest share of the market yet. That moved Bing into second place for the first time.
Google & Bing Up, Yahoo Down  — Again
Now Google's share has improved to almost 67%, Bing is up to 18% and Yahoo is down to 11%, their lowest share of the market yet. Ask has about 2½ % of the search market and AOL continues to come in at about 1½%. So the big three still monopolize search and their share has increased over the past year and a half, from 94% to 96%. That's why in our reporting, we don't bother with rankings other than at Google, Yahoo & Bing.
Need help getting found in Google, Bing & Yahoo? Request our Overview & Pricing Guide via the button on the right.
Does your domain name get you ridiculed?
We've written before about webmasters who chose domain names without fully thinking it through. Our first article on the subject was back in 2006. It was pretty amusing, but only a year later there was a new compendium of unfortunate domain name choices.
I thought the rather widespread exposure would result in those domains getting fixed. No such luck. Many of them are back in a new compendium from BoredPanda. Some of the new ones, though are equally striking:
Effective IT Management from RegencyTechnologies
itscrap.com
A French arborist
lesbocages.com
Scrap metal recycling
americanscrapmetal.com
All about North Lake Tahoe
gotahoenorth.com
A Bait & Tackle Shop
masterbaitonline.com
An emotional healing therapist
therapistinabox.com
Educational astronomy website
analemma.org
All about Winters, California
wintersexpress.com
High tech hardware from Dickson
dicksonweb.com
Directory of therapists
therapist.com
Top MP3 songs
mp3shits.com
A toy consignment service
kidsexchange.net
Travel website
choosespain.com
TV personal advice celebrity
bendover.com
A cafe in Serbia
bitefartcafe.rs
Language teachers
teacherstalking.org
A bedspread company
ladrape.com (Update: Looks like this one has bitten the dust.)
Formal wear for kids
childrenswear.co.uk
If you're about to register a new domain …
I wrote a helpful article awhile back listing 5 rules to keep in mind. Perhaps it's time to add a 6th rule: eliminate alternate unfortunate interpretations.
Like this post? Please Like it or share it with your friends via the links above, or +1 it in the link below.