Check Your Browser Compatibility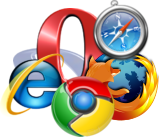 I'm always surprised at how many small business websites I come across that don't display properly in Firefox. I usually blame sloppy web design by their webmasters, but many small businesses cut corners and try to design their websites themselves. Sometimes they succeed,
Internet Explorer is still the most common browser in use, but other browsers are catching up. Last month Internet Explorer had 55% of the browser market, Firefox was up to 21%, Chrome had 10%, Safari had about 5% , and the rest filled out the remaining 9% or so.
That means that about half of the visitors to your web site are likely to be using something other than Internet Explorer. Web sites that haven't been designed for cross-browser compatibility are usually designed to work properly only in Internet Explorer, with questionable results elsewhere. Common problems are misalignment of elements on the page, text overlaying images or other blocks of text, text running off the edge of the browser, and so forth. And you don't just need to consider other brands of browser — there are differences in display even between different versions of the same browser.
A ruined user experience on your website loosely translates into a lost sale. Don't let that happen to you!
Search Marketing Standard magazine has an article on how to approach the issue. They recommend checking your web pages for compatibility in a number of different browsers. While few of us want to install a dozen or more of the most popular browser, there's an easier solution: BrowserShots. Just check off the browsers you want to compare, enter the URL of your web pages (one at a time) and wait while BrowserShots compiles screenshots from each browser you chose. If you find a problem, check your code and explore the suggestions in the Search Marketing Standard article.