Cross Browser Compatibility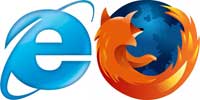 In last month's blog, we wrote about making sure your web site displays properly in all the popular browsers. It's just not safe anymore to assume that everyone uses Internet Explorer.
Now there's a tool that will let you see exactly how your web pages display in almost any browser you can imagine. You'll find it at www.BrowserShots.org. Don't get carried away, though. You can chose to see any page on your site in dozens of browsers, but the process takes quite a bit of time and the more browsers you choose, the longer it takes.
For priority service they request a donation, and that's a good idea if you're a web designer working on multiple web sites. If you just want to check your own site, though, the service is free as long as you don't mind a little wait for the results.