Are Your Facebook Posts Getting Fewer Views?
It sure seems like Facebook posts are getting seen by fewer people.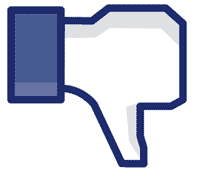 We've had reports from clients that as soon as they paid to promote a post on Facebook, all the rest of their posts achieved fewer views than before. By a lot – a drop of more than 50% in the number of people who saw them.
The problem seems even more pervasive than that. Facebook has to filter what you see because there's so much content there you can never keep up. But the way they're filtering really restricts what you see.
Facebook Ads: A Bad Idea?
Derek Muller of Vertitasium has produced two effective videos explaining why it's a bad idea to advertise on Facebook.
Here's the first one

And here's their followup.

What's been your experience with Facebook paid promotion? Positive? Negative? Please let us know in the comments below.
Like this post? Please say so with the Like button above or the +1 button below. Or tweet it with the button up top. Thanks for sharing.