Give Your SEO Campaign Time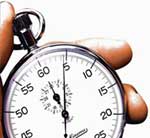 A few words of wisdom from the ePower Marketing blog.
Believe me; we understand you need proof that the budget you got approved for a Search Engine Optimization program is or will deliver results, especially in these economic times. However, that is not done with a snap of the fingers. Search Engine Optimization is an ever changing, interactive field, and when an SEO campaign begins, it takes time to really take effect for a Web site.
We find that, starting from scratch with keyword research, it usually takes at least three months to see measurable results in all of the search engines.