Google Encourages Social Media Marketing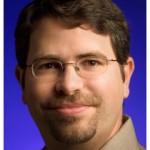 In a recent video by Matt Cutts, "The Google Guy", he answers a question about the top three things an in-house SEO should focus on. They were:
Improve page speed because the faster your pages download, the more visitor interaction occurs and the more likely a visitor is to convert to a paying customer.
Make sure internal linking is done well, with appropriate keywords in link text, but not so much that it's spammy. Also make sure you have no broken links. (We check our client sites monthly for that.)
Invest time and effort in social media marketing.
It's the last one I want to focus on here, and if you watch the video, it starts in the middle of Matt's response, just where he starts to talk about social media marketing. The point is that once you have great content on your site, social media marketing will expose your site to many more people. Links from various social media outlets help your link popularity, people who visit your site as a result might link to it, and all that will help both your search engine rankings and your overall visibility.
Matt mentions some of our favorite social media sites; here's a list for you to consider:
We have found social media marketing well worth the attention it requires. For example, we make sure to send each new blog post to all of the above social sites, and we're finding dramatically increased participation as a result, getting comments on our blog posts from all over the world.