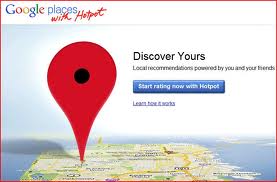 Hotpot is an extension of Google Places, the local search database of more than 50 million locations in which merchants can claim their businesses, provide their addresses and other information, and engage with customers.
Hotpot adds two important new features into the mix: user ratings and recommendations from friends. Website Magazine points out that this isn't anything radical; you can do it on Yelp, Angie's List and several other sites. But it does illustrate Google's increasing emphasis on local search and Google Places.
It wouldn't hurt of some of your delighted customers happened to go over there and rate you with a bunch of stars — You and they can get started with Hotpot here.