How to Detect Fake SEO Consultants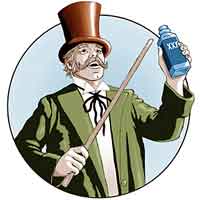 We're always interested by articles that tell people how to tell good SEO companies from bad ones.
There are a number of reasons for that. For one, we're very confident that these articles will demonstrate that Rank Magic is a good SEO company.
For another, I find it disturbing that there are so many bad SEO companies out there — companies that over-promise and under-deliver (or worse).
The more people know about how to identify those bad apples, the sooner they'll disappear from the scene and I won't have to feel like I'm in the same business as a bunch of hucksters.
Here are five sure-fire giveaways. If you're considering hiring an SEO company, this article is worth reading. These are five things fake SEO companies may do:
1 – Guarantee you that they can place your website in the number one position on Google.
2 – Charge ridiculously low amount of money for a lot of services.
3 – Claim a Secret and Proprietary Technique that cannot be revealed.
4 – Recommend "Black Hat" techniques: (doorway pages, cloaking).
5 – Emphasize outdated techniques like keyword stuffing & meta tags.