Influence Your New Google Sitelinks
When someone searches for your brand or company name, Google may display sitelinks.
What's new is that Google has significantly increased the screen real estate devoted to them. Previously known casually as "six-packs" because they typically included two columns with three internal links each, sitelinks are now much more detailed and include links to many more internal pages on your website. Here's how ours looks: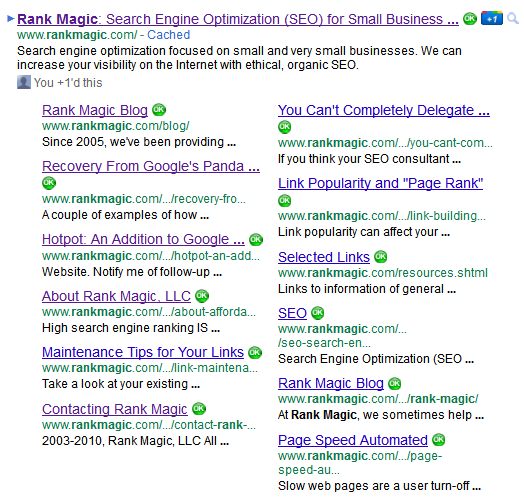 This gives visitors immediate access to deep pages on your website, helping them to get to the information they need. That's great, because the easier it is for them to get what they want, the more likely they are to convert to paying customers.
Now, when you look at your own sitelinks (if you're not already looking at them) you may find some pages there that you don't think are helpful in the visitor-conversion process. You may have other pages on your website that you'd rather see show up there. Well, the good news is that you can actually influence what shows up in your sitelinks — at least partially.
Google allows you to "demote" a page that shows up in your sitelinks. When you do that, Google is less likely to show that page, and is likely to pick another page to show kin its place. (This isn't 100% though … Google might still show your demoted page.)
How to Manage Your Sitelinks (sort of)
Go to your page in Google's Webmaster Tools and select your website. Click on the plus sign next to Site configuration in the left column. From the drop-down, click Sitelinks. You'll find there simple instructions and a form to allow you to "demote" a page, or make it less likely to appear in your sitelinks. By encouraging pages to show up that are more likely to appeal to your visitors, you'll improve the likelihood of someone clicking to your site and clicking on the page most likely to convert them to a paying customer.
Google has more information on Sitelinks and demoting pages.