Get Started Creating Link Bait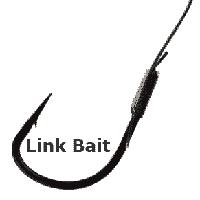 One of the most powerful techniques for improving your search engine rankings is to create content that will attract links ("link bait"). Links from directories, reciprocal links, and links you request from other web sites have great value, but there is nothing like the unsolicited links that come from other webmasters.
Here are some ideas on how to get started creating link bait:
Freebies – Give away an e-book or a tutorial or something else of value
Review products in your industry
Write about news in your niche
Develop a tool and share it (another freebie, yes)
Interview someone famous in your industry and publish the article on your own site
Start a controversy
Create a contest or award Program
Create a resource: lists of the best the books in your industry, a glossary of terms for your business
Report on Statistical or Financial trends in your industry.
Here's a popular and comprehensive resource for link bait ideas.