Top Local Ranking Factors for Small Businesses
Are You in the Local 3-Pack?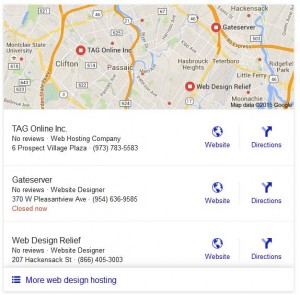 There have been a number of changes in how Google represents local search results. Sometimes referred to as the Local 3-Pack, when people search for a business or service  within a particular local area, Google shows the top three local websites beneath a map showing their locations. This often appears above all of the organic or natural listings, so even if your website shows up at the top of the organic results, if you show up here it substantially increases the likelihood someone will click on your listing. Let's explore the local ranking factors that will help you show up here.
There has been reliable research showing that if you appear in both the organic results and the pay per click results, it super validates you as one customers will click on. Showing up in the local listings does the same thing, or even more so.
New: 2015 Survey Results
The folks at Moz have just concluded a detailed study for 2015 of all the significant factors that govern whether and where your website shows up in the Local Pack. While that study may be a bit too intense for most small business owners, here's a pared down list of the very most important factors you should know about.
Domain Authority  — Domain authority is an overall measure of how well a website should perform in searches, based on many factors including link popularity.
Quality of inbound links  — this is more important than the number of inbound links.
City and State in the Page Title of your landing page from Google My Business  — that's usually your website home page.
Consistency of structured citations  — citations are mentions of your business name, address and phone number across the web, and especially listings in local directories such as YellowPages.com, Yelp.com, SuperPages.com and those included in our PowerListings subscriptions.
Quality or Authority of your citations  — citations from high quality sites and those with a high Domain Authority count very heavily in your favor.
Keyword relevance in the content  — aside from the local geographical terms in the search (city, county, state, etc.) this relates to the keywords in the search and how relevant the content of your page is.
Inbound link diversity  — having links pointing to you from many different websites.
Geographical relevance in your content  — having the county, city, neighborhood, etc. included in the content of your page.
Having your physical address in the city of search
SEO Best Practices
Much of the above relates to best practices SEO. There are no major surprises in the above list; mostly a re-ordering of priorities. You should routinely have all those bases covered and be working on improving those you can on an ongoing basis.
If you need better visibility in local search, Rank Magic can help.
Google recently changed the Local Pack from seven local listings to three. How has that impacted you? Let us know in the comments below.