SEO… SEM… Search Queries… Organic Results… PPC…
Is it more than just alphabet soup?
Once upon a time there was an easy way (or so a small business owner might have thought) to get customers and increase business. 'Yellow pages' Yellow Books', 'Little Yellow Books' and the like were full of advertisements in varying sizes and prospective advertisers were bombarded with offers to be #1.
Competition was fierce to be in the first page position and/or on the right side of the page. Business owners couldn't get enough of it, and every month, year after year, that's where the majority of advertising money went. At least for our company.
Then came the web
Over a number of years, websites became increasingly popular, and the good news was, you didn't have to be a Fortune 500 company or a country-wide chain to have a website. You no longer needed to "let your fingers do the walking" in order to find what you were looking for  — your friend the computer was your guide to the internet
Time passed and more and more people throughout the world began searching on Google and other lesser patronized search engines for items they might want to buy, services they needed, and a source for information. There were, however, nay-sayers and dis-believers. But, we weren't about to join that parade.
And so, 'back in the day' we had a website designed for our company.  It was 1999 and we were pioneers in our industry, particularly in our local service area  — one of the very first to venture onto "the web". The mere thought was mesmerizing! It was exciting, and it was, at least in our mind, THE place to be. And of course, many thought it silly. Who was going to look for our business on the internet? Everyone, that's who!
And so begins the Odyssey
As with anything new, there's a learning curve and being a savvy small business owner, I decided to start doing some legwork and educating myself in the ways of the new marketing trend. And so, after years of a somewhat stagnant website, it was clear that the time had come for a complete overhaul. The year was 2007.  After creating a new website design I decided to dip my toe in the big pool of Search Engine Marketing.  Webinars, seminars, books (by the dozen) and a foray into this new form of advertising and marketing led me to want to learn more.
And… why not? After all, our business success could largely depend on it. And so it became my focus. Not being found in a search query would then become the apparent bane of my existence.  But, how does one accomplish this. Start reading online and you'll find, as of the date of this blog post, 1,630,000,000 responses, and that's on Google alone. Daunting isn't it?
As luck would have it, I met Bill Treloar (more on Bill later) who was nice enough to invite me to write this blog post.  After spending a few hours with Bill I decided to engage his services. Bill was a fountain of information, filling in the gaps of knowledge for me. Bill helped our company with the optimization of a half dozen pages on our website, which had recently undergone another revision in early 2011. Steadily we began seeing increased organic results. Coupled with my aggressive Pay-Per-Click marketing campaign, which, in my humble opinion goes hand-in-hand with other efforts, the pace began to build.  Slow and steady wins the race, as the cliché goes. All along, I continued (and do so today) to read, search, learn and persevere in my mission to be at the 'top of the page', at the' front of the line', the' head of the class'.  And it works.
But… as with anything good…there's an expiration date.  And so, my suggestion is to stay vigilant. Don't let your expiration date come when you reach a time that you think you've done enough. It's never enough.  Be your own best advocate, and continue the efforts laid out in the foundation that is created. Algorithms change, competition increases, and eventually you'll be ready to unleash the expert you hired. Once that happens, hire yourself and stay the course. You'll be glad you did!
See you online!
Bonnie Bornstein Fertel
Bornstein Sons, Inc.

About our guest blogger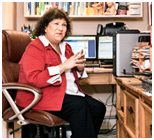 Bonnie Bornstein Fertel along with her husband Richard Fertel are owners of Bornstein Sons, Inc. a 3rd generation family owned and operated contracting company providing Air Conditioning, Heating, Plumbing, Solar and Electrical services for homes and businesses in northern and north central New Jersey.  Bonnie's recently launched  new business, Bonnie B, LLC concentrates on web content, blogging, social media and Google AdWords Account Management.  Bonnie manages Google Ad Words accounts for small business owners and writes content.
Thanks to Bill Treloar and Rank Magic for getting us off on the right foot! Bill's expertise in optimizing for search has proved to be quite an asset and I would highly recommend him to get your website off to a running start as well as ongoing monitoring. You do, however, have to keep your end of the bargain though! And, that's the voice of experience talking!