Real Estate Template Websites: Can They Get Good Rankings?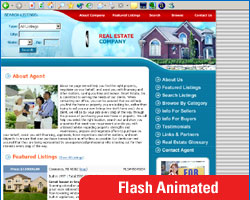 Noted SEO Expert Jill Whalen recently answered a really good question about real estate template web sites. There are many industries where companies create cookie-cutter web sites for their clients: lawyers, real estate, mortgage companies, and many others. I've come across this issue often, and found Jill's response (as usual) right on.
I have a template real estate site and need serious help driving more traffic. I know that I need "keyword-rich content," but I'm worried that the template isn't ever going to do what I want it to. Should I have a custom site done, or can I get high search engine rankings with a template? Real estate is such a competitive online market, that I'm drowning in ridiculously vague keywords as well. Any advice?
…
Like most questions in SEO these days, the answer of course is a big, fat "It depends." Not all template sites are created equal, with some being okay and others being much less than okay. Most of the template real estate sites I've seen in the past are not very search-engine- (or crawler-) friendly. A good percentage of them simply frame some standard content and listings that are provided by a real estate marketing service.
If I've basically just described your real estate template site, then you are correct that adding keyword-rich content probably won't help you much. You may have a home page that you can create original content on, but the days of simply optimizing a home page and that's it, are long over. SEO is all about being found for the hundreds of phrases that relate to what your
site and your business offers. Without plenty of original pages full of information, it would be impossible to support all the phrases necessary to bring highly targeted search engine visitors to your site.
If you're allowed to build new pages outside of your template, that is, if they don't have to be framed or anything like that, you might be okay. But you'd also have to be able to change and add to your site's navigation as well. So much of SEO today is in the structure of the site. You need some control over that in order to do well, especially in the highly competitive real estate market. Those that do well with online real estate sites are usually those that have become a true resource for their customers and potential home buyers. Your template site may provide a lot of decent info, but if it's the same info that 90% of the sites in your area are also using, then it will be fairly useless.