Refuse to Participate in the Recession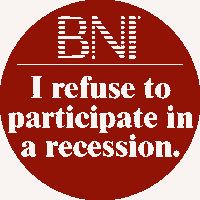 When the economy slows to a crawl, the vast majority of your competitors instinctively hit the brakes on their their sales and marketing. They see money for promoting their businesses as expenses and not investments. As a result, your competition drastically reduces expenditures for sales, search engine optimization, direct mailing, advertising, trade shows, promotions, and so on. Now is the time to hit the gas instead of the brakes, and establish a lead on them they may be unable to make up later.
Read more by sales trainer Bill Todd here.