Search Engine Market Share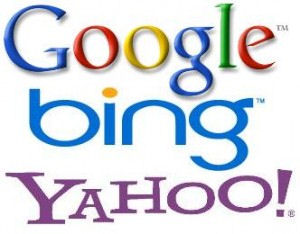 We haven't reported on the respective market share among the three top search engines for more than a year and a half, and we see most trends continuing. About three years ago Google had 64% of all US searches, Yahoo had 16% and Bing had 14%. That changed n 2012 when Google's share improved to 66%, Bing improved  to 15% and Yahoo dropped to 13%, their lowest share of the market yet. That moved Bing into second place for the first time.
Google & Bing Up, Yahoo Down  — Again
Now Google's share has improved to almost 67%, Bing is up to 18% and Yahoo is down to 11%, their lowest share of the market yet. Ask has about 2½ % of the search market and AOL continues to come in at about 1½%. So the big three still monopolize search and their share has increased over the past year and a half, from 94% to 96%. That's why in our reporting, we don't bother with rankings other than at Google, Yahoo & Bing.
Need help getting found in Google, Bing & Yahoo? Request our Overview & Pricing Guide via the button on the right.