SEO Monitoring Update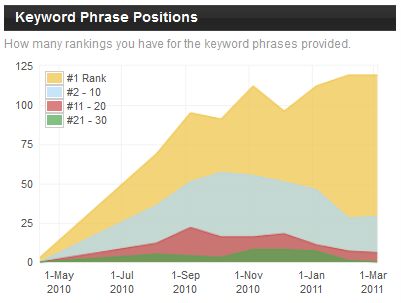 The last time we wrote about SEO Monitoring, we were sending out detailed monthly reports on CD four times a year. That's been much improved, and it's time for us to tell you about it.
We now have even more comprehensive reporting about where you rank in Google, Yahoo & Bing for all of your keyword phrases, with details about trends, which web pages are coming up for your keywords, and even competitor comparisons. At the right is an example of just one overview graph from our reports. This one shows the overall rankings trend for a client over the course of their first year with us.
If you're not effectively tracking your rankings, let us refer you to a cautionary tale of what happened to one former client. Contact us to discuss setting up effective monitoring of your keyword rankings.