SEO Tip: Anchor Text On Internal Links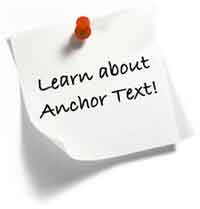 First some quick definitions:
Internal Links = links that take a visitor to other pages on your own web site.
Anchor text = the words someone can click on to go to another place or another web site, often blue and underlined, but not necessarily.
It's well-known that the anchor text on external links pointing to your web pages helps you to rank more highly for those terms in the search engines. But what about internal links? Does it help there, too?
Bill Hartzer explains that we don't know exactly how much weight the search engines give to this factor, but it does seem to be something that factor into their ranking calculations. Why have a link say Click Here when instead it can say Buy Your Widget Now?
Make the text in your internal links indicative of what the user will find at the other end of that link. And if you can incorporate one of the keywords that page is optimized for, so much the better!