SEO Tip: Issue a Press Release
Issuing press releases to online press release services has a number of potential benefits for you.
If you include a link to your web site (you should always do that!) people who read it may become intrigued and click over to your site. That's the first step to them becoming a customer.

Google News and Yahoo News (among others) will see your press release and register the link to your web site, helping your rankings.

A journalist may see your press release and decide to talk with you about one or more articles they're working on, and cite you as an expert.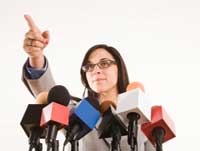 There are some good places to learn about writing press releases —
here's one. Search Engine Watch has a good article all about press releases and SEO. Use one of your important keywords in the press release subject or heading, and include at least one link to your web site, preferably an internal page that's optimized for the keyword phrase you used in the press release heading. If you can work that link into the body text of your press release, so much the better.
If you want to get a few more solid links to your web site, consider writing a good press release. If you don't feel you're that good a writer, fins a good copywriter to help you. We have some great copywriters as strategic partners who have worked successfully with our clients. Submit your press release to some online press release distribution sites like AddPR, PRweb, The Open Press, and PRleap.