Take Ownership at Google Places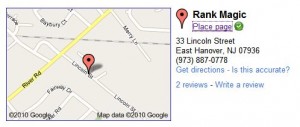 We've written in the past about the value of your listings in local search: Bing local, Yahoo Local, and Google Local (which was renamed Google Local Business Center, and renamed again to Google Places). There are a number of reasons to claim ownership of your listings, and Jill Whalen of High Rankings has written a nice article about this. Here's just a tidbit:
More useful to the average business owner, however, is the new ability to post messages to your Place Page. This is great if you have an event coming up or just any special thing you want to tell people about. It can be up to 160 characters and it will show for 30 days unless you delete it sooner.