Levi's saw a 40 times increase in referral traffic from Facebook after implementing the Like button in April 2010 and has maintained those levels since.
Outdoor sporting goods retailer Giantnerd.com saw a 100% increase revenue from Facebook within two weeks of adding the Like button.
American Eagle added the Like button next to every product on their site and found Facebook referred visitors spent an average of 57% more money than non-Facebook referred visitors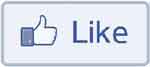 These stories are chronicled in an article at Search Engine Land that also suggests that if you have a Facebook Like button on your site or your blog, it will get three to five times more clicks if:
Versions that show thumbnails of friends are used.
They allow people to add comments.
If they appear at both the top and bottom of articles.
If they appear near visual content like videos or graphics.
As long as we're talking about the Facebook Like button, why not click on the Like button at the top of this post? (And thanks!)