Twice As Much Malware On Google?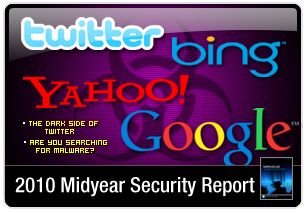 Barracuda Labs conducted a study across Bing, Google, Twitter and Yahoo!, over a roughly two-month period, and found that Google has twice as many links to malware as Bing, Yahoo! and Twitter combined.  They were looking particularly at "trending topics": timely issues related to news, current events, and other emerging topics. In their forward, they state:
Everyday more information and more people come online. This creates opportunities in making new connections and finding new things. This is the core of what fuels progress on the Internet. However, this influx of activities also creates new opportunities for attackers to insert themselves. We have focused on understanding how attackers are pursuing these opportunities.
Key findings include these:
Google takes the crown for malware distribution – turning up more than twice as much malware as Bing, Twitter and Yahoo! combined when searches on popular trending topics were performed. Google scored 69%; Yahoo! 18 %; Bing 12%; and Twitter 1%.
The average amount of time for a trending topic to appear on one of the major search engines after appearing on Twitter varied tremendously: 1.2 days for Google, 4.3 days for Bing, and 4.8 days for Yahoo!
Most of the malware found was between the hours of 4:00 a.m. and 10:00 a.m. GMT.
The top 10 terms used by malware distributors include the name of a NFL player, three actresses, a Playboy Playmate and a college student who faked his way into Harvard.