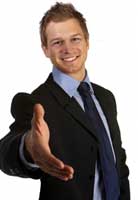 First impressions are important, and for your web site to contribute to your bottom line, you need to worry about two first impressions.
First there's the "impression" your site makes on the search engine spiders. That's the impression that will get you god rankings and drive visitors to your site.
The second "first impression" is the few fleeting seconds you have to convince your visitor that you have what they're looking for and that you're a company they'll want to do business with. That depends on the "look and feel" of your web site and written copy that conveys an irresistible marketing message.
Either one of these, by itself, isn't going to do your bottom line much good.