Link Authority Getting Harder?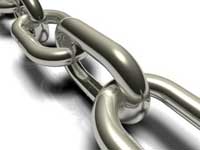 New incoming links are very important to web site owners who hope to have potential customers find them in the search engines.
It's generally agreed that having lots of incoming links, especially if they're topically related, provide a boost to a site's search rankings. Our experience bears that out.
It's beginning to look like Google may be employing a dampening filter on new incoming links. It seems that Google does not give immediate full credit for an incoming link. Observations seem to indicate that Google provides only a partial immediate credit, by running new links through a filter. Only as the link ages, and stays linked to the site for long enough, does the target site's Google PageRank and link popularity receive full credit for the link.
That total link value and PageRank credit is further measured for link theme relevance (how related the link source is to the page it links to), making the process of link building much more difficult than in the past.
In Brief …

New links don't provide immediate benefit to the receiving website. The link popularity and Google PageRank benefit is not passed in completely and immediately once the new link has been discovered by Google. In effect, the theory postulates the existence of a "Sandbox" for new links and new websites. Links (or new sites) may remain in the Sandbox for awhile before they begin to count in your favor.