Business Presentation on Internet Visibility
Do It Yourself SEO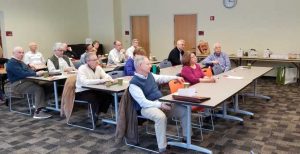 Rank Magic founder Bill Treloar has become much in demand as a presenter for local business groups in New Jersey. His presentations on Internet Marketing provide a do-it-yourself guide to better visibility when potential customers search for your products or services.
Bill explains in simple English what you can do to optimize your own web site for better rankings in the search engines when people search for your group members' businesses. He leaves the audience with a common sense understanding of how the search engines work and what they're looking for. Even more than that, he gives your members specific things they can do, on their web sites and off, that will move them up in the rankings in Google.
Need a Business Presentation

For Your New Jersey Meeting?

Bill provides a power-packed, informative presentation that will hold your group's attention and even have them taking notes. And a lively question & answer session focuses the attention on topics of specific interest to your members.
Feedback
Bill gave a well-organized presentation, from how to tell where our website ranked to ways to increase our web traffic. I now feel confident enough to dig into our SEO plan and put our website to work! I would recommend this to any do-it yourself-er ready to have their website swim with the big fish.
Angela Ferrigno
Glassworks of Summit
During the COVID 19 pandemic,
Bill is still available to give these presentations virtually.
Topics covered include:
The importance of search engine optimization
The 2 factors that control where your web site ranks
The 5 essential things to know about keywords
How to ensure a Google-friendly web site
The 5 critical places keywords must appear on your web pages
The importance of link popularity and your web site's reputation
Exactly how to find and request good links and avoid bad ones
There's no sales pitch. These are sessions that teach your group's members how to do it themselves.
Bill has spoken to a diverse range of business groups, including:
Morris County Chamber of Commerce
Senior Citizens Resource networking groups
Hanover Area Chamber of Commerce
International Society of Event Specialists (ISES)
Business Network International (BNI)
Le Tip
Denville Chamber of Commerce
Morris County SCORE
He can speak to your group, too. But call soon while there's still room in Bill's speaking schedule!