Are Your Business Listings Sabotaging You?
Many small business owners pay little or no attention to their business listings across the web. That can be a big mistake.
BrightLocal Conducted an in-depth look at the impact of business listings
Among their conclusions are some startling ones:
94% of consumers have used a business information site ro find information about a local business in the last 12 months.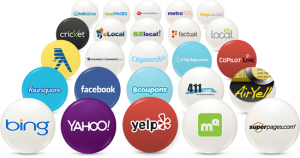 The most commonly used sources of business information are
Google
Facebook
Yelp
Instagram
Apple Siri
BrightLocal found that finding incorrect information on a business listing would stop 63% of consumers from using that business.
Incorrect business listing information causes customers to lose trust in the business to different degrees:
phone number – 66%
address – 60%
business name – 49%
opening hours – 40%
email address – 46%
photos – 45%
85% of consumers found incorrect or incomplete information on a business listing in the last year.
77% found conflicting information for the same business on different business listing sites.
In the last 12 months, 81% of consumers visited a business that said online it was open, but that was actually closed due to the pandemic.
Find the full report on business listings here.
Business listings can hurt you several ways
Here are some of the more common ways your business listings can hurt you.
You're missing
If someone is looking for what you do or sell in a search engine, directory, map, or mobile app and you're not there – clearly they can't find you.
You're a local business and your address is wrong
Nothing is more frustrating for customers than showing up at a business and finding that it's not there.
Your phone number is wrong
Equally frustrating is when there's a wrong phone number in your listing and customers can't get through to place an order or ask a question.
Your listing got changed
You may have carefully corrected your online listing only to find that it's since changed and now is incorrect. Listings can be changed without your knowledge or approval and those changes can sometimes hurt.
Your business hours are listed incorrectly
You don't want someone showing up at your business or calling you only to find that you're not open when the listings said you were. If your hours are changed due to the pandemic or holidays — or for any other reason — you need to make sure they're listed properly across all of your listings.
Vigilance!
You need to pay at least a modicum of attention to this, reviewing your business listings occasionally.
There are citation management products like Yext PowerListings that can solve a number of these problems, including locking your listings so that you're the only one who can change them. These products typically come with a monthly fee but are often worth it by saving you manually managing all of your listings on an ongoing basis.
Business listing management products don't typically cover niche directories, though. There are a number of different directories for attorneys, for example, or for people in the building trades, and typically you need to manage those manually.
COVID
As long as the pandemic continues, some customers will be looking for reassurance that you have appropriate pandemic protocols in place.
BrightLocal found that 74% of consumers searched for a business listing to see what COVID-19 measures were in place. Make sure you identify that in any of your business listings that allow it.
The most important of these places is Google My Business.
Log into your Google My Business dashboard.
In the left-hand column, scroll down to the section headed From the business. In this section you can add attributes of your business in five categories: from the business, accessibility, amenities, health & safety, and service options.
The first section is where you can identify whether your company is black-owned, Latino-owned, veteran-led, or women-led. Be sure to check of any that apply.
And in the following section on Amenities you can indicate whether you have a gender-neutral restroom.
Health and safety is where you can indicate what COVID-related protocols are in place. This is particularly important right now as many customers are sensitive to possible exposure and if you haven't updated your Google My Business information since before the pandemic, these were not available the last time you were here.
The last section is Service options where you can indicate whether you offer on-site services and/or online appointments.
In the next section, accessibility, you can indicate whether your premises are wheelchair friendly.
If you just want to update your COVID protocols, you can do that right in the Home section of your Google My Business dashboard: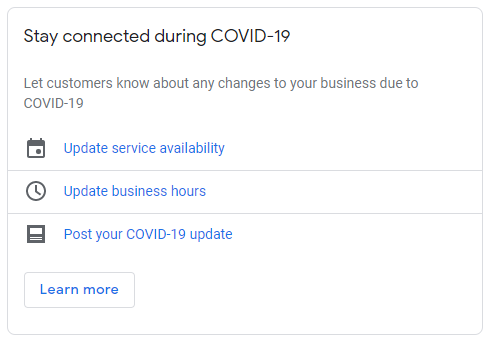 Help Your Customers
A good rule of thumb is to always make it easy for customers to buy from you. You need to also make it easy for them to learn what they need to know about you to help them get to the point of buying. Make sure you're listed widely and consistently across the web, but perhaps most important is thoroughly and accurately.
Your experience and perspective is valuable. Please share your thoughts in the comments below.
Find this helpful? Please share it with the buttons on the left or the Click To Tweet above.