Avoid 3-Way Link Schemes
We know that your link profile — inbound links to your site from other websites — are essential to showing up in search results. Recently, our clients have been reporting increasing numbers of 3-way linking offers. We recommend avoiding them.
What Are 3-Way Links?
3-way links are an attempt to address the belief that reciprocal links (you link to me and I link to you) provide less benefit than 1-way inbound links to your website. There may be some truth to that, but reciprocal linking done properly still provides effective link popularity credit. The 3-way approach typically takes this form: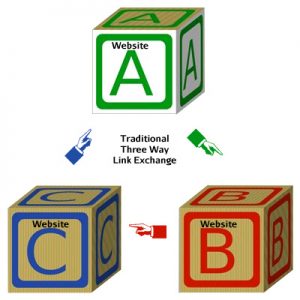 What's Wrong With 3-Way Links?
Google has this to say about link schemes (emphasis is ours):
The quantity, quality, and relevance of links count towards your rating. The sites that link to you can provide context about the subject matter of your site, and can indicate its quality and popularity. However, some webmasters engage in link exchange schemes and build partner pages exclusively for the sake of cross-linking, disregarding the quality of the links, the sources, and the long-term impact it will have on their sites. This is in violation of Google's webmaster guidelines and can negatively impact your site's ranking in search results.
Search engine ranking algorithms are able to detect 3-way linking as an artificial means of boosting the popularity of all sites and may discount the value of these links. We think it's unlikely to generate an actual penalty, but you may get no value from the incoming link. And based on Google's statement above, an actual ranking penalty is certainly not out of the question.
Some schemes host the sites involved in this approach on different web servers, thinking that will hide this scheme from the search engines, but once they've done a few 3-way links the search engines can detect the pattern, regardless of where the web sites are hosted.
You're Not Going to Outsmart the Search Engines
Most people engaging in 3-way linking are doing it with the express intent to manipulate search results. At Rank Magic, our philosophy is that anything done to deceive the search engines is a bad idea that will eventually bite you in the tail. Once the search engines see that you're playing games to artificially increase your link popularity, they'll stop counting many of your links; perhaps even some very legitimate ones.
Our Position on 3-Way Links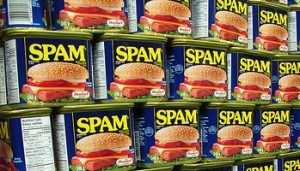 We never engage in 3-way linking schemes for many reasons. For one, we think it's unethical, akin to search engine spam. For another, they're very difficult to control. And for another, they can hurt more than they help in the long run.
Reciprocal linking, where two sites link with each other, is perfectly acceptable and natural when both sites are relevant for the same topics and visitors. A plumber's web site that links to a local electrician's web site is a natural reciprocal link arrangement. A furniture web site that shares links with one of the furniture manufacturers they feature is a natural thing, and often helpful to visitors on both web sites. That's much more acceptable than 3-way linking schemes and will never get you in trouble.
Share your perspective in the comments below.
Please share this with the share buttons on the left of the Click to Tweet above.