Don't Optimize for Google
Huh???
Sure, Google gets twice as many searches as Yahoo and Bing combined, but you shouldn't optimize for Google. You shouldn't optimize for Yahoo and Bing either.
It's the User. It's always the User.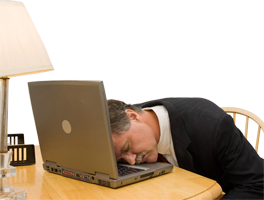 Identifying the right keywords and doing on-page keyword optimization is arguably the easy part. The hard part is developing a compelling UX (User Experience). In a competitive niche, that's what separates the high flyers on Google from the also-rans.
Let's think about that for a second. It's always been Google's goal to present the best sources of information for any given search. That's why you won't find multiple listings on the first page of results that all have the same content. They're out there  — just look at websites developed by vertical market website vendors; they often have pages with lots of information, but pages that are the same on many other websites. Google never wants to show you more than one of those: the rest are all redundant.
User Experience
But it's more than just having unique content on your site (although that is an irreducible essential). Your site needs to be easy to use, easy for users to find what they want, full of information not easily found elsewhere … it needs a good UX. That's always been a #1 priority for Google and in their statement of philosophy headlined "Ten things we know to be true", three of them relate directly to UX:
Focus on the user and all else will follow.
Fast is better than slow.
You don't need to be at your desk to need an answer.
I've written about all of those things in this blog before, but it wouldn't hurt you to review some of them.
Focusing on the user is Google's #1 value. We've gathered all the stuff we've posted on that subject in our User Experience category.
The speed issue is always a concern when we prepare optimization recommendations for our clients, and all of our posts on that subject are neatly combined into our Page Speed tag.
Recognition that people are increasingly accessing the web on their phones is inescapable. But many websites that look great on a desktop or laptop, or even on a tablet may be close to unusable on a phone. We've written about that, too.
What are your thoughts? Do you agree? Disagree? Let us know in the comments below.
Like this post? Please say so with the Like button above or the +1 button below. Or tweet it with the button up top. Thanks for sharing.
How does your UX stack up against your competitors? Need some help beating them out in the rankings? If so, Rank Magic can help
,