How Many Incoming Links Do I Really Have?
Your Link Profile Is an Important Ranking Factor
Your website's link profile is an essential ranking factor at Google. It's a reflection of how important or authoritative information on your website is. Your link profile is based on the number and sources of inbound links to your site. I estimate it counts for 40-50% of where you rank on Google.
And while link quality outweighs link counts, many of our clients still like to know how their link counts are doing.
Where do we get your link counts?
In the past we've tracked inbound link counts from a number of sources, including Moz, SEMrush, Majestic, and ahrefs.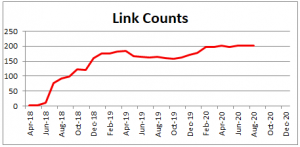 We now collect our link counts from Moz for simplicity and because they have the most comprehensive scan of the web.
Link age may be a consideration: older links may count less than fresher links. Link weight is also important. the weight of a link is related to the authority of the linking page so that links from more authoritative pages count more heavily in your favor than links from lesser sources. Link relevance is a factor too. Links from websites related to your business help more than links from completely unrelated sources.
We periodically report to clients about their inbound link counts well as counts of how many other websites are linking. Some websites (domains) may link to you from multiple pages, resulting in a difference between total links and linking domains. Sometimes that difference is considerable.
Domain Authority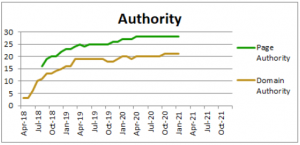 Domain Authority and Page Authority are other metrics from the folks at Moz to measure the strength of a website or an individual page in terms of its likelihood to rank prominently in web search results. On a logarithmic 0-100 scale, it's based on a number of more elementary metrics including link counts, linking domains, link quality, and more. It's being continuously tweaked via machine learning against actual Google search results
[Updated on January 29, 2021.]
If you'd like to know more or have us track your own link  profile, just reach out anytime.
If you find this helpful, share it via your social media  — click on the square Follow buttons on the left or the handy Tweet link above.
Have something to say about this? Start or join the conversation in the comments below.