Does Your Site Use Intrusive Interstitials? Better Not!
Why you need to avoid intrusive interstitials
What's

an Interstitial?

An interstitial is an ad that appears in between two pages. Sometimes they can appear before the home page on your site. Often interstitials are pop-up ads, but sometimes they will be helpful, like an offer to chat with a live person. An interstitial ad is a form of interruption marketing used by advertisers who want their ads to be more like broadcast ads.

Many interstitials are just fine. But you want to be  sure your interstitials aren't intrusive.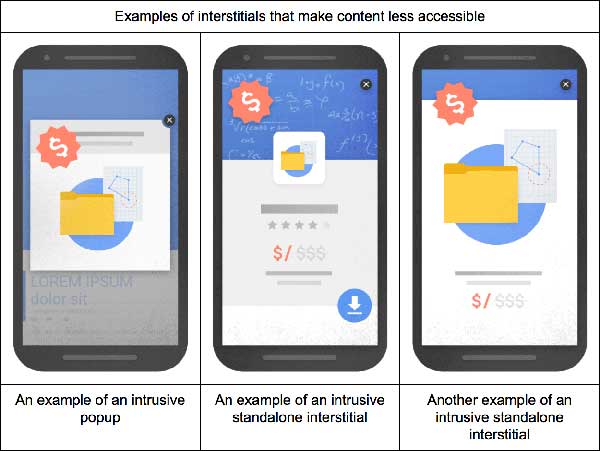 What's wrong with

an intrusive interstitial?

An intrusive interstitial or pop-up ad is one that annoyingly blocks all or most of a page. This is more problematic on mobile sites where there's much less screen real estate. With less room on the screen it's very easy for an interstitial to be considered intrusive.

One thing intrusive interstitials do is that they annoy your visitors. That's a bad thing in and of itself, especially if it's annoying enough to drive the visitor away. They also slow down the loading of your site because it's extra material to download into a phone or browser.
Why is it important

to avoid them?

It's been well known for years that Google favors fast sites. If your interstitial is slowing down the display of your pages, that might hurt your ranking. But even beyond that, Google hates them. Google announced about a year and a half ago that at the beginning of 2017 intrusive interstitials would negatively affect your ranking. And here at  Rank Magic we are always concerned about the health of your rankings.
A few
exceptions
Google has identified three types of interstitials that "would not be affected by the new signal" if "used responsibly."
Interstitials that appear to be in response to a legal obligation, such as for cookie usage or for age verification.
Login dialogs on sites where content is not publicly indexable. For example, this would include private content such as email or unindexable content that is behind a paywall.
Banners that use a reasonable amount of screen space and are easily dismissible. For example, the app-install banners provided by Safari and Chrome are examples of banners that use a reasonable amount of screen space.
Please join the conversation and share your observations in the Comments section below.