Monitor Your Rankings!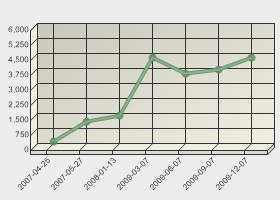 While organic rankings achieved ethically often tend to be stable for months and years without further attention, they aren't permanent. As your business changes, you'll update your website and may inadvertently de-optimize parts of it. As competitors rise in their ability to compete for rankings, your visibility may drop. A former client of ours had achieved a visibility score of about 50% (which is actually much better than it sounds) when we last checked his rankings five years ago. At the time, he was so busy from the SEO we did that he was reluctant to do anything further lest he be unable to keep up with the business. Now it's five years later, and he's blaming his slow business on the recession. But a quick check showed that as a result of changes to his web site that partially de-optimized it, his visibility had slid to only 6% over the past 5 years.
It'll be much harder to get his rankings back now than it would have been if we'd attacked the problem in a more timely manner. That's why our SEO Monitoring  program checks your rankings in a detailed report every three months. If you don't want our rank reporting program, you need to at least check your important rankings manually on a regular basis so you'll know if you start to lose visibility and need to take corrective measures.