What is Local Search? Why is Local SEO Important?
What is Local Search?
Local search is happening more and more. Pretty much everyone has a smartphone; and more voice searches are happening every month. When someone is looking for a local business they increasingly conduct a "near me" search. They look for "coffee shop near me", or a "plumber near me".  They also often search for services in their state, county, or town.
A few statistics from Search Engine Journal:
50% of people doing a phone search visited a local store within 24 hours.
34% of people searching on their computer also visited a local store within the a day.
71% of people say they search for the location of a business before visiting it for the first time.
60% of adults search for local services or products on tablets and phones.
97% of users looked online for local businesses in 2017 and 12% reported looking for a local business online every day. That number may be even higher today, two years later.
Why is local SEO important?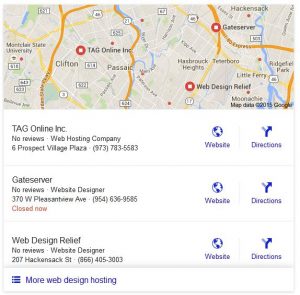 If you're a brick and mortar store or service who deals with local consumers on a face-to-face basis, understand that your customers who don't yet know your business name are looking for you via local search.
If your competitors are doing local SEO, they're going to show up in those searches where you may not. They may be showing up in the coveted Google Local 3-Pack and you may not be.
Local SEO is a bit different from — an expansion of — standard SEO.  To show up in local searches you need a  basis of proper SEO for your website, but that is often not enough.
What's different about Local SEO?
Standard SEO practices focus on two kinds of things.
Your on-page keyword optimization and other factors in your website help Google and other search engines understand what your website and your individual pages are all about.
Your off-page authority on the web helps Google understand how important your website is.
On-page factors typically control whether or not you will show up in Google's results when someone searches for what you do. Off-page factors typically influence how high in the list you will show up. Both are necessary to compete successfully with other businesses like yours.
All of that is necessary for local SEO, but there are couple of additional factors that are not included there.
The first is proximity to the searcher. If someone is searching for a local business, Google will tend to show them local businesses that are close rather than local businesses that are further away. I probably don't need to tell you that you have no control over that.
The second is your "prominence" across the web. This is something you can control.  How broadly are you mentioned in local search engines, directories, maps, and phone apps? How consistently are you listed in terms of your NAP (Name, Address, Phone)?
How well are you doing in local search?
It's really easy to tell whether your site is like a Billboard in the Woods or not. Just don't fall into the trap of searching for your business by name on Google and thinking that's sufficient. Unless there are other businesses with names very similar to yours, this is not a good test. You need to pretend that you're a customer who doesn't know the name of your business but is searching for what you sell or what you do.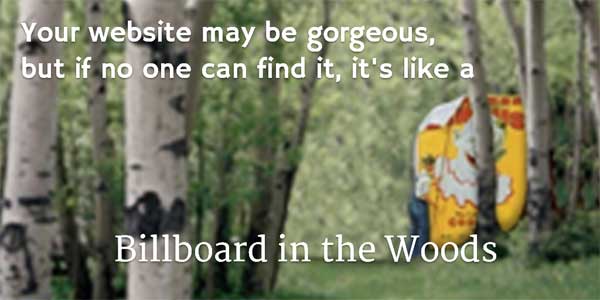 Try to look yourself up by searching like that customer would, including either a local town, your county, or just searching "near me".
Do you show up in the first page or two of results?
Do you show up in the Local 3-Pack?
How many competitors are showing up higher than you?
Did you find this helpful? If so, please share it with the buttons on the left or the Click To Tweet above.
We welcome your thoughts in the Comments section below.