Why hire a professional copywriter? One word: Conversions
Not sure of the value of a professional copywriter?
Everybody thinks they can write, and to a degree they have a point. Anyone can write. Most people can add, too, and know how to use scissors. But that doesn't necessarily mean they're equipped to prepare their own tax return or cut their own hair.
As veteran copywriters, we've seen firsthand how poorly constructed writing can derail your communications and position your brand in a less than stellar light. Imagine an ad for an Ivy League college began with the headline, "You Can Never Have To Much Knowledge." Readers would view the typo as a reflection of the school and the quality of the education they might receive. This is the type of mistake spell check doesn't catch.
But effective copywriting is about much more than mechanics.
Most businesses don't know when it's better to use short, snappy sentences versus long-form copy. Or how to incorporate keywords into a blog post to boost the chances it will rank in organic search. Or why headlines are more effective when you use sentence case rather than initial caps (another strike against our fictional Ivy League example).
Good news — an experienced copywriter knows all that and more, including how to boost conversion rates with targeted, high-value content. So, in the age of "content is king," why should you hire one rather than do-it-yourself?
Copywriters are a quick study.
A professional copywriter knows the ins and outs of writing for various industries and is skilled at quickly getting up to speed on a new subject. Regardless of the topic, we also know the right questions to ask to uncover valuable market differentiators and showcase your product or service in the best possible light.
We're objective and persuasive.
Business owners are often so immersed in their product/service/industry, they find it hard to step back and be objective. As a result, you might not be doing your business any justice when it comes to writing content that generates leads and sales.
It's the copywriter's job to get inside the head of your ideal customer, understand what motivates them to buy, and turn your product features into irresistible benefits.
Copywriters can help you make the most of your content budget.

Today's copywriters don't just write; we strategize ways to give you the most return for your content marketing investment. For example, you'd like to develop an e-book and a landing page to capture leads. But you may not think to craft each section of the e-book so it can also serve as a stand-alone blog post. Or turn a hefty research report into a series of quick-read infographics that appeal to more visual learners.
We understand the sales process.
Your content marketing should be leading prospects down the sales funnel — bringing them step-by-step closer to a purchase. By digging into how your buyers buy, professional copywriters can produce content that answers questions and addresses concerns at the right time in the sales cycle. The result? Higher conversion rates.
Writers understand the power of language and storytelling.
Do you know the words or phrases that can maximize response?
Or that a single user story can be exponentially more memorable than a laundry list of features?
From anecdotes and word play to sentence structure and even punctuation, clever content strategies are second nature to experienced copywriters — and we can implement these tricks of the trade to engage your customers and build your brand.
We leave the grammar mistakes to the amateurs.
Whether it's a typo, a mixed metaphor or random capitalization, even the most minor mistake can ruin your credibility. Most copywriters are also skilled proofreaders, so your marketing content is as flawless as it is persuasive.
There's no doubt that creating and distributing consistent, high-value content is a significant commitment. But the value is clear — research from Aberdeen shows that those who become authorities based on content receive nearly 8X more site traffic than those who don't.
The right partnership with a professional copywriter is a collaboration, helping you cost-effectively leverage your professional expertise without wasting countless hours crafting subject lines, calculating keyword density or writing compelling tweets. For us, it's all in a day's work — and lets you focus on what you do best.
About our guest blogger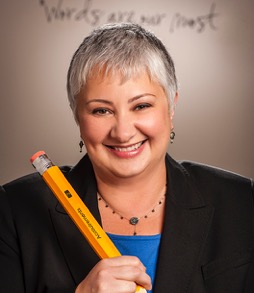 Lisa Fahoury is Chief Creative Officer of Fahoury Ink, a New Jersey based content marketing agency that provides B2B and B2C content strategy and development services to mid-market companies. The former creative services manager for the New York Daily News, Fahoury is also an in-demand speaker and corporate trainer on content marketing. When she's not creating content, she spends her down time  plotting to win the Pillsbury Bake-Off and convincing her husband that three cats really did seem like a good idea at the time.