10 Questions To Ask Before Hiring an SEO Consultant
Don't outsource your search engine optimization without asking these 10 questions.
1. What Ranking guarantees do you provide?
If the SEO consultant's answer answer is anything other than "none", look elsewhere.
2. Are you going to make changes to my website?
Changes are essential, but you should retain control over your own site. We recommend that you never allow an SEO consultant to have direct access to your website; maintain control between yourself and your web designer.
3. What is your approach to linking?
Be careful if the SEO consultant uses proprietary link programs and free-for-all link exchanges. Make sure you get frequent updates as well as competitive link research and analysis. Hiring an SEO consultant who outsources link building off-shore or uses unapproved linking schemes can get you in trouble with Google.
4. What reporting will I receive?
You should receive frequent reports on activity on your behalf and results achieved.

5. What does your pricing model include?
The firm should provide a clear description of deliverables and pricing up front.
6. Why is your own Domain Authority so low?
(If it really is low, like under 20). There may be valid reasons for that, but it helps to ask.
7. Who are some of your competitors?
If the SEO consultant isn't a good fit for you, can they recommend someone else? Some SEOs work mostly with large businesses, others with small or mid-size businesses. Some focus on eCommerce clients and others on local or service area businesses. Finding a good fit for your business is important.
8. What are your qualifications?
Learning about the staff and their qualifications can reveal a lot.
9. Can you provide references and successful rankings?
Testimonials from clients are a great way to find out about your SEO consultant.
10. How much will the traffic results cost and when can I expect to see them?
Price alone can't determine quality SEO work, but you need to know what to expect.
Hiring an SEO company is an important decision for your company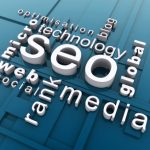 Choosing your SEO consultant is an important decision, and one that holds great promise for your online visibility — or can hurt your visibility badly. So don't make the decision to hire an SEO company lightly. Don't decide completely on cost. And don't decide on an SEO firm unless you have a good conversation with them that leaves you feeling good about them.
For a little further explanation, Search Engine Journal has an article on Google's own advice on hiring an SEO consultant here.
Find this helpful? If so, please share it via the social media links on the left or the Click to Tweet above.
What are your thoughts? Join the conversation in the Comments below.