8 Best Digital Marketing Tools for Small Businesses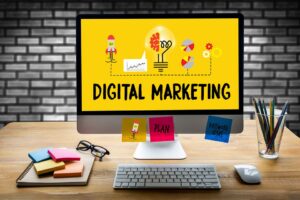 Past the basics, digital marketing is far from easy.  Different channels, practices, and campaign types require their own skillsets and tools to tackle. What's worse, some tools often come with hefty price tags that strain smaller budgets – sometimes needlessly so. We can't address the former much, apart from offering our advice and services. But the latter we can help with by exploring the best digital marketing tools for small businesses.
What marketing tools do small businesses need?
First, let's briefly establish what types of tools most small businesses will likely need. Then we'll suggest an outstanding performer for each one and note alternatives you can consider.
#1 Website analytics tools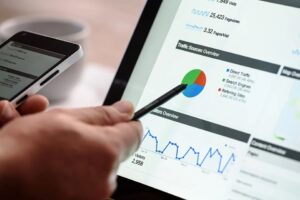 Before all else, any and all marketing activities need website data to inform their course. How much traffic are you getting, and from where? What's your bounce rate? How do visitors behave?
Knowing exactly how your website performs is crucial, as that's where you ultimately want to bring and convert your audiences.
#2 A CRM
Similarly, a Customer Relationship Management (CRM) solution can offer immense help as you're getting started. This software type records all customer interactions with your business, as the name suggests, collecting customer data and actionable information.  You can benefit from this type of software quite substantially – from keeping customer information up to date to using it for email personalization.
#3 Local SEO tools
Next, most small businesses tend to target and rely on local audiences, so they need local SEO. We've written about this subject before, if you'd like to know, or brush up on, why local SEO is important.
Of course, much like its general SEO sibling, it also needs all the help from your tools it can get.
#4 SEO tools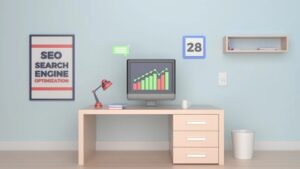 On the subject of SEO, you can not neglect its broader variants either. SEO will offer organic traffic, enhance online visibility, and facilitate long-term growth by improving your search engine rankings.
You can practice basic SEO manually, but Backlinko finds that Google uses over 200 ranking factors. Attempting to cater to them all without specialized tools will often not go well, so digital marketing tools for small businesses can never exclude SEO.
#5 Keyword research tools
Still on SEO, as it holds that much value, keyword research tools are essential as they spearhead it. Targeting the right keywords will get your blog found and serve your content to eager audiences.
Should you want to engage in paid marketing, keyword research will also reveal overlaps with SEO and help the two synergize – letting you prioritize which keywords to bid on and which to chase organically.
#6 Email marketing tools
But beyond SEO, you will most likely also want to engage in email marketing. Not everyone will reach the "astounding 4,200% ROI" that HubSpot finds, but it's still highly cost-effective.
However, email marketing also requires personalization, outreach timing, and more, making email marketing tools an excellent investment.
#7 Social media tools
Social media activities also come with similar requirements. You can't safely ignore social media either, as they present an excellent opportunity to reach vast, engaged audiences.
You may combine email and social media with SEO – ideally with the proper consolidated tools for easier management.
#8 Communication tools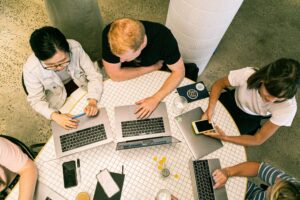 Finally, even the smallest businesses need to ensure proper communications among staff. You cannot guarantee smooth operations if everyone isn't on the same page at all times.
To stress this point further, consider Oak's communication statistics – where, among others, they find that:
39% of surveyed employees believe that people in their organization don't collaborate enough
44% of employees want wider adoption of internal communication tools
33% of employees said a lack of open, honest communication has the most negative impact on employee morale
8 Best Digital Marketing Tools for Small Businesses
Having covered marketing tool types, now we can move on to specific suggestions. In order, you may consider the following.
#1 Google Analytics
Staring with analytics, one cannot recommend Google Analytics enough. This handy tool offers a wealth of actionable insights, including:
Traffic volume and traffic sources (direct, referral, organic search, etc.)
Keywords used to find you
Visitor behavior; dwelling time, pages visited, etc
The cost of its 360 plan is very steep, unfortunately, starting from $12,500 per month and $150,000 per year. However, you will most likely not need it as the free plan already offers a wealth of helpful analytics features.
Finally, it synergizes perfectly with Google Search Console (formerly Google Webmaster Tools) to truly let your website shine. Thankfully, Google Search Console is also a free service.
For alternatives, you may consider:
#2 HubSpot
On to CRM solutions, HubSpot's CRM may have caught your eye online before. This excellent solution offers such vital features as:
Customer database
Reporting dashboard
Pipeline management
Email tracking
Live chat
Most surprisingly, but thankfully for small businesses, it's completely free. It also synergizes very well with HubSpot's other marketing services, or "hubs," should you need them. Price points are a bit complex if you do, however, so Tech.co's HubSpot pricing guide should help.
For alternatives, if you can budget for them, you may also look into:
#3 Google Business Profile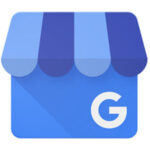 Next, digital marketing tools for small businesses need to address local SEO specifically. For this purpose, there's nowhere better to begin than Google Business Profile (GBP).
Formerly Google My Business (GMB), this free listing service is the spearhead of all local SEO campaigns. It grants your business access to Google's app ecosystem, most notably Google Maps, and it boosts your local search ranking. If you'd like to know precisely how to make the best of it, you may consult our article on local SEO.
Unlike the other tools on this list, GBP has no replacement. You may augment it, however, using:
#4 KWFinder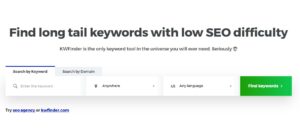 On the subject of SEO, keywords are a fundamental part of it. Thus, to fully cover your bases, you may consider KWFinder, one of the best keyword research tools around.
KWFinder offers such features as:
Keyword analysis; SEO difficulty and search volume
Related and hidden keyword suggestions
Localize keyword results for local SEO
KWFinder comes with a free 10-day trial, after which you may opt for the affordable $29.90/month plan. If it doesn't serve your needs or you want to explore your options, you may also consider:
#5 Ahrefs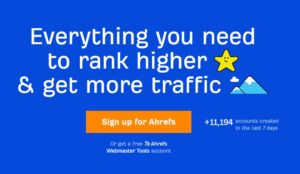 But keywords are only a part of SEO, not its sum. Digital marketing tools for small businesses should thus always include broader SEO tools, which Ahrefs stands out among.
This comprehensive tool's features include:
Website auditing tools
Competitor analysis tools
Rank tracking
A content explorer
A built-in keyword research tool
It does start at $99/month, but it compensates for it through its breadth of features and ease of use. Still, you may also want to explore its paid competitors, like:
Or, if you're now getting started with SEO, you may begin with free alternatives like:
#6 MailChimp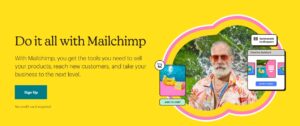 Next, SEO aside, you will most likely need email marketing regardless of business size. You can't ignore its excellent ROI or ability to bring you customers.
For this purpose, MailChimp remains by large the industry leader. Its pricing plans do come with list limitations, but you can consider upgrading as your lists grow. The free plan comes with a limit of 2,000 subscribers and 10,000 monthly emails but also has excellent features, like:
Email automation
A built-in marketing CRM
A creative assistant, alongside form and landing page tools
Chances are you may soon find this restricting, however. If so, the Essentials plan at $11/month offers some excellent value, adding:
A vast email template library
A/B testing tools
Delivery by time zone
Chat and email support
A new limit of 50,000 contacts and 500,000 emails per month
While relatively restrictive, MailChimp is still among the best digital marketing tools for small businesses. If you're unhappy with it, you may look into alternatives like:
#7 Hootsuite
Moving on to social media, social media marketing does offer small businesses an excellent, albeit demanding, engagement channel. You may consider the world-famous Hootsuite to make your job much more manageable.
Hootsuite's reputation is well-deserved, as they're industry experts – producing insightful annual digital reports alongside We Are Social. Their social media marketing platform seeks to cater to these insights, offering:
A central social media management platform
Scheduling tools
Advanced reporting tools
Unfortunately, more specialized features are reserved for higher pricing plans, and the basic Professional plan starts at $49.00/month. If it doesn't suffice for you, and you can't budget for its Team plan ($129.00/month), you may consider alternatives like:
[Editor's note: you may also look into Buffer, which helps schedule social media posts on multiple platforms. It's free for up to three platforms, and charges if you need more. This is the one I've chosen to use.]
#8 Slack

Finally, when all is said and done, even the smallest teams need efficient communication. For this vital purpose, you may consider Slack – one of the best digital marketing tools for small businesses out there.
Even in its free version, Slack comes with a wealth of valuable features like:
The synchronous communication platform that reduces email time waste
Simple, efficient data sharing
Integrations with over 1,500 apps
It does have some limitations, however, such as:
Only searching for the 10,000 most recent messages
Only allowing 1:1 calls
Limiting active integrations to 10 at a time
The Pro plan removes these restrictions for just $6.67/month, leaving you with an excellent communication tool. Still, if its interface doesn't suit you, you may also consider:
Discord (free, $9.99/month for advanced features)
Google Chat (Free to Gmail users)
RocketChat (free for up to 1.000 users, $3 per user per month for more and advanced features)
In closing
To conclude, digital marketing does require technology's help to meet its increasing demands. Thankfully, the market continues to provide affordable digital marketing tools for small businesses to let them elevate their efforts. While brief, this list hopefully helped you get started.
About the author
Andrew Miller is a freelance digital marketer and copywriter with over a decade of experience in both fields. An avid SEO practitioner and a CRM enthusiast, he often authors content specifically for SMBs and local businesses.
If you found this helpful, please share it via the social media share buttons on the left or the Click-to-Tweet above.