Are Duplicate Listings Hurting Your Small Business?
The Problem: Duplicate Listings
Duplicate listings are one of the biggest negative ranking factors in Local SEO. If your business has more than one listing for a single location in an online directory, those are duplicates.
You may think duplicates increase the chances of someone finding you online, but just the opposite is true.
How they hurt
Confusion: often duplicate listings display old addresses or phone numbers, or odd variations on your business name.
Betting on Chance: which of your duplicate listings will actually be presented to a searcher is up in the air. You hope they see a current, accurate listing but it's a gamble which one they'll see.
Reviews: if any of your listings have reviews, they may be split up among your duplicates. One listing may have most of your reviews and the other few or none. If the one with lots of great reviews is not the one shown, those reviews are wasted.
Contagion: depending on what site the duplicate listing is on, it can be picked up by others, spreading the bad information even further.

Google's Local 3-Pack

: whether you show up as one of the three listings beneath a map in Google is largely dependent on the number and consistency of your citations across local directories. Inconsistent duplicate listings hurt your chances here.
Organic local listings: if search engines find your NAP data (name, address, phone) inconsistent across your citations they may not be able to tell which is right. And they may not show you in the organic rankings at all.
Do you have duplicate listings?
Search Engine Land, in their Definitive Guide to Duplicate Research for Local SEO, offers instructions on how to identify duplicate listings. The identification process is an eleven-step manual procedure involving online research and working with an Excel spreadsheet.
If you subscribe to our PowerListings service, we solve that problem for you and automatically discover and highlight potential duplicate listings. You can easily review the potential duplicates and if they're true duplicates PowerListings will suppress them for you.
How to deal with duplicate listings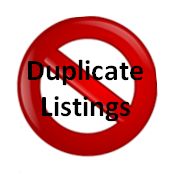 The goal with duplicate listings is to get rid of the one with bad information. Or, if both are accurate, to get rid of the one with the least information about your business. In most cases you can claim the duplicate listing and then you can delete it. (You should also claim the remaining good listing.) The procedures vary somewhat among local sites, but it's not a very complicated process and is usually easy to accomplish. It takes a few steps, including responding to a phone call or an email from the local site.
PowerListings saves you that trouble and lets you suppress duplicates with just a couple of clicks but admittedly that convenience comes at the cost of a modest monthly fee.
What's been your experience with duplicate listings? Join the conversation below.
Did you find this information helpful? If so, please Like or share with the buttons above and on the left.