Local Listings
Drive Business
Local listings are vital to all businesses that deal with customers on a face-to-face basis – nearly everyone consults them before choosing a local business. But they're almost impossibly time-consuming to manage across dozens of different sites.
And manage them you must. You may be listed at many local sites you're not even aware of, because they populate their listings from a number of different sources, and whether your listing is correct or not may be a crap-shoot.
Being Listed Is
Not Enough
Too often we see local listings that are incorrect: old phone numbers, confusing variations on your business name, inconsistent addresses. It's been reported that one in every five local searches returns false information, and that hurts your business. If search engines see several variations, they don't trust which one is right. Getting them all current and correct is important to do, but time consuming.  And since the information there comes from multiple sources, it can easily change back after you've fixed it.
PowerListings
To the Rescue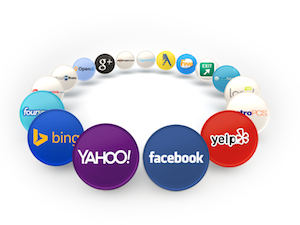 PowerListings automatically syncs your business listingsalmost instantly across our network of premium sites and mobile apps. You can take control of your listings from a single point to get your basic NAP (name, address & phone) information listed and/or corrected. It happens almost instantly, compared to the common industry turnaround times of days, weeks, or months for changes to appear. And PowerListings will make sure your corrected information doesn't get changed back to incorrect versions.
It's More Than Just
NAP
We can help you differentiates your business listings with rich content on search engines, mapping services and mobile apps. Many local listings can allow additional information to help your listing stand out from the crowd: photos, logos, staff bios, enumeration of your products and services, promotions and special offers, events and more can be custom tailored and controlled by you. This enhanced content can be updated in real time and tailored to each location, affording you an unprecedented amount of potential customer engagement through your local listings across all platforms.
And PowerListings offer tracking and reporting on searches and profile views across our network as well. You can also keep an eye on any customer reviews on these sites so you can address any less-than-stellar reviews.
See for Yourself
— Run a Free Scan
Run a free scan to see how well your site is represented on our list of local sites. Just add your location information and click Scan Now.