Don't Show Up Missing on Google My Business!
Your Google My Business listing is a local business essential
[Note: 2022] Google has renamed Google Business Profile to Google Business Profile. The rest of this article will use the new name.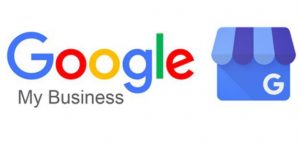 If you're a local business, dealing with your customers face to face, having an accurate Google Business Profile listing is critical. Google says this is one of the first things to do to rank well for local searches. Google says "The information in your listing like address, phone, logo, business hours, and website determine what shows up when people see you in Google Search and on Google Maps. Your Google Business Profile listing is a critical element in your local SEO.
See our blog post about getting found in local searches.
Too often information for small businesses on Google Business Profile is old or out of date. And when your NAP (name address, phone) is out of date or inconsistent with other citations across the web, that compromises your listing. It may even prevent your listing from showing up.
But worse yet is not having a Google Business Profile listing at all. If you're a very small business or a new business, odds of not having a Google Business Profile listing are greater.
How to tell if you have a Google Business Profile listing
You might have a listing even if you've never created one yourself, so the first step is to see if you do. Start out with a simple Google search for your company name.  If your company shows up in the Knowledge Card at the to right, you have a listing.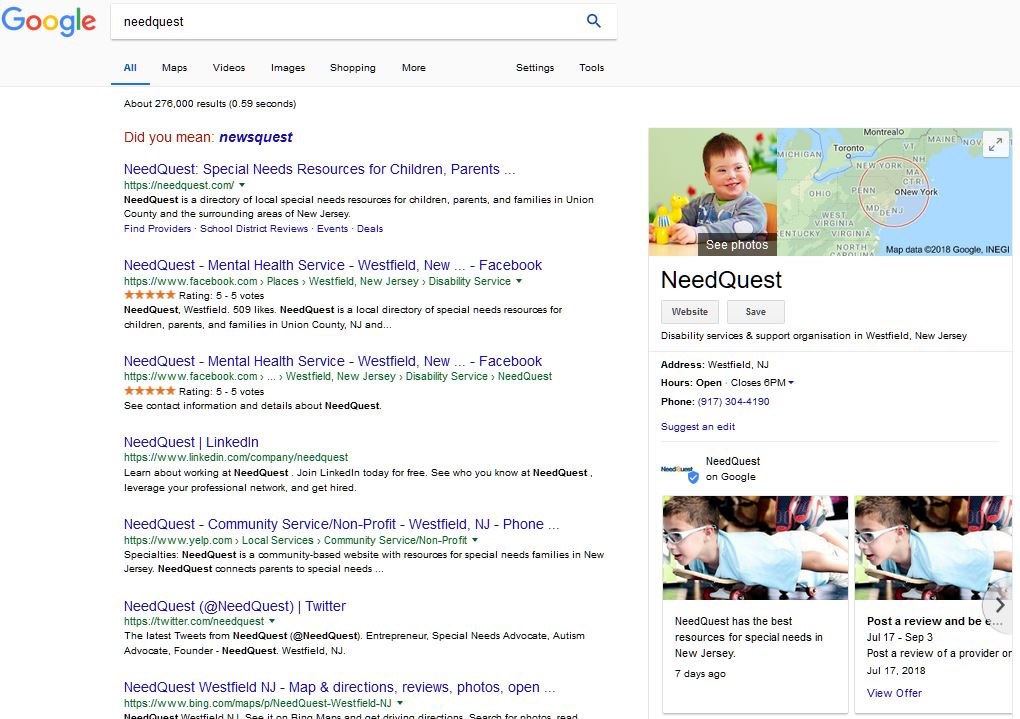 If this was your business, go to that listing and make sure everything you can fill out has been completed. Also make sure that everything is current, especially your NAP. AdviceLocal has published a nice set of things to do to optimize your listing.
Have you claimed your listing?

Compare the above good Google Business Profile listing with this one: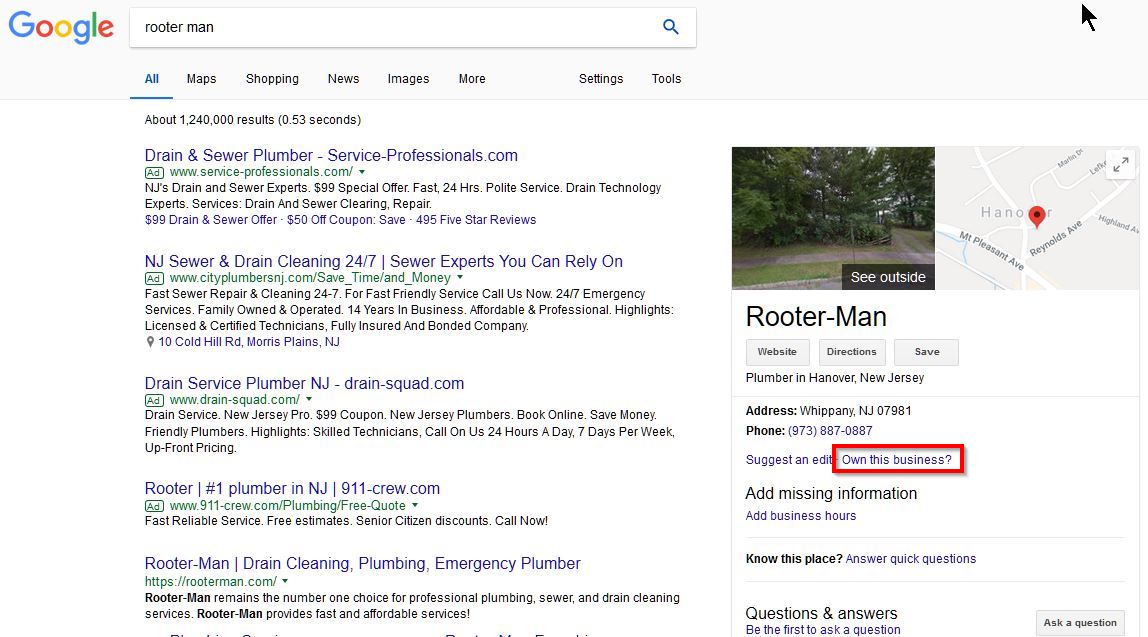 I've highlighted the question: Own this business? — that only shows up if no one has claimed it yet. You need to click that and follow the on-screen instructions from Google to verify your listing
Verifying your listing
In most cases, Google will give you two options to verify the listing: by mail or phone. If the phone number on the listing is correct, that's often the best choice. I've had several experiences where clients have selected the mail notification option, only to have to request it two, three or more times because whoever sorts the company mail mistakes the Google letters for junk mail and discards them. However, if no phone number is included on your current Google Business Profile listing you may have to select the mail option. Exercise some diligence so that when the letter arrives from Google you'll spot it. When you get it, follow the instructions to login and enter the PIN in your letter to verify your ownership of the listing.
Once Google confirms that you own the listing, log into it and make sure everything is filled out correctly and is consistent with how you're listed everyplace else.
If you don't have a Google Business Profile listing
When you search for your listing, if a number of listings about your business show up but there is no Knowledge Card about your business in the top right (like the search results page below), that's an indication that Google Business Profile doesn't have a listing for you.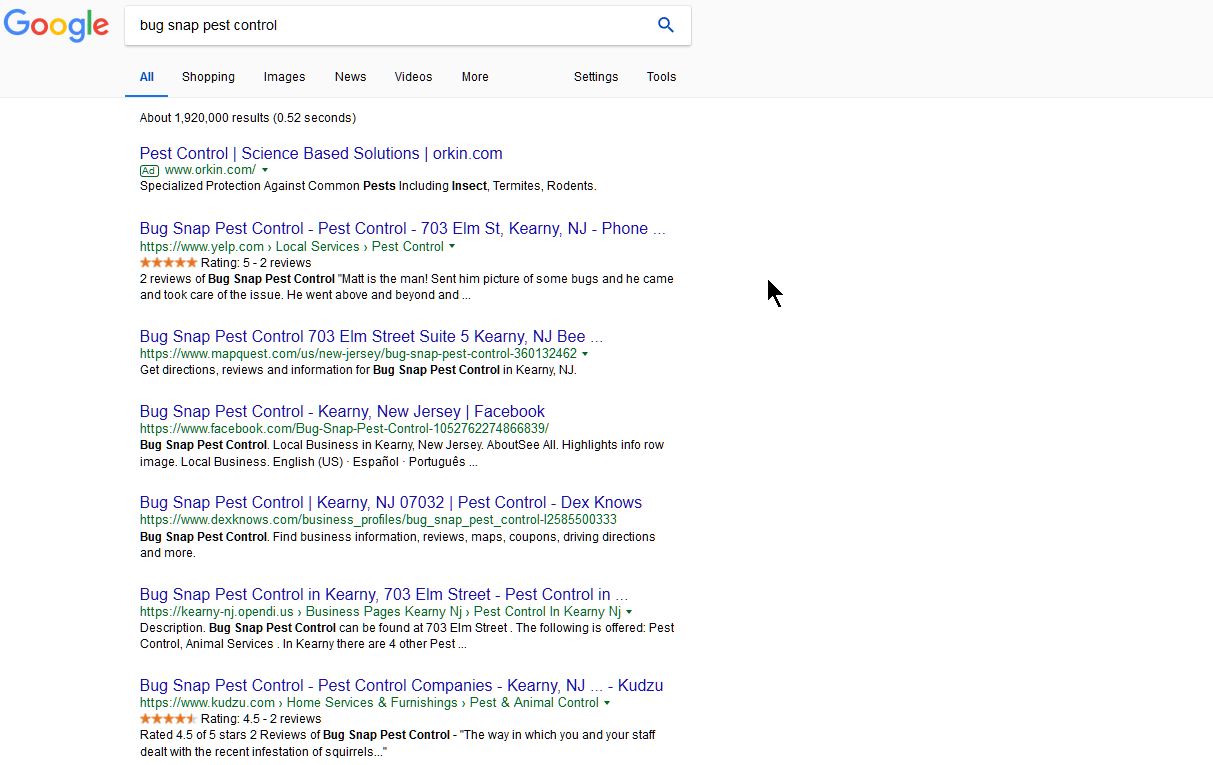 You need to create your listing
This isn't as daunting a process as you might think, especially if you have a single location. If you have multiple locations, you'll need to go through this process for each of them.
Go to this Google Business Profile create-a-listing page and click on the green GET STARTED button.
Enter your full business name and click NEXT.
Enter your full address and indicate if you provide services at customer locations instead of at your business address. Many local service businesses operate out of a home office. You may want to hide your street address so customers don't come knocking at your front door.
Continue to follow the on-screen prompts until you get to the point where Google wants to send you a PIN by mail or phone. See the information above about verifying your listing.
Once you get your PIN, enter it into your account to complete the verification. At that point you own and can manage your Google Business Profile listing.
Next make sure to optimize your listing. Enter as much information as Google Business Profile will allow: logos, photos, business hours,  business description, and so forth. The more information you fill out, the more prominent your listing will appear. Make absolutely sure that your NAP is current and consistent with how it's displayed everywhere else.
A quick note about consistency
When it comes to showing up for local searches, an essential factor is Google's trust in your NAP. Some citations may have a previous address, some have a local phone number and others a toll-free number. Some may even have variations on your company name. When that happens Google isn't sure which is right. If Google doesn't trust it knows your current and accurate NAP, it will be reluctant to display you prominently.
You can check your listing at several dozen of the top citation sources – local search engines, directories, maps & apps – with our handy  scan here. If that scan reveals problems, we can help.
Please join the conversation below with your own experiences and opinions.
If you found this helpful, please share it via the social media share buttons on the left.