How to Get Online Reviews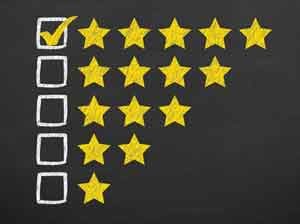 How important is it to get online reviews?
People use online reviews to pick a business
When searching online, people really do take online reviews into account when deciding which listing to click on. For example, if you were looking for an Indian restaurant in Lake George, NY, this local 3-pack might well convince you to drive ½ hour south to Sarasota Springs. But if that's too far, it's an easy choice between the two local restaurants.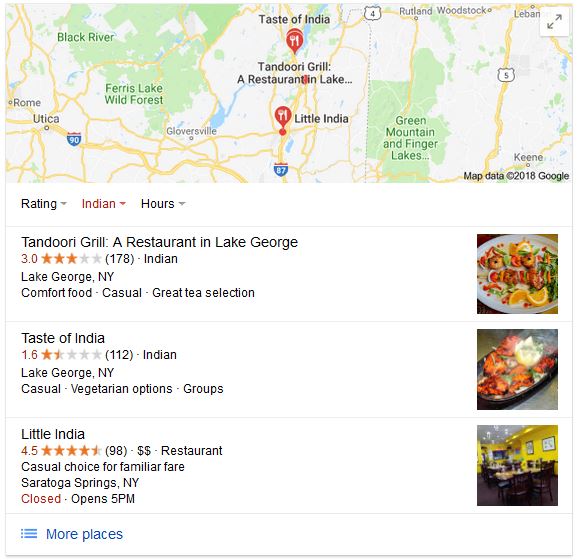 Avoid phony reviews
There's an understandable temptation to sort of start the ball rolling by writing a review for yourself. Or to make up for a mediocre average star rating by creating some 5-star reviews.
Don't do it.
Here are a few things to avoid – don't do any of them:
How to get online reviews
I strongly encourage all small businesses to actively get online reviews. They can make all the difference between just getting found on Google and getting chosen.
What are third party reviews?
Third party reviews are reviews on websites other than your own. Reviews on your own website are referred to as first party reviews. I have no clue what second party reviews might be.
Some of the most powerful third-party review sites include Google My Business, Facebook, LinkedIn, and Yelp. You may like our post about whether Yelp reviews really help.
If a potential customer already knows your company name and looks you up by that, you are very likely to show up in the Knowledge Card at the top right of Google's SERP (Search Engine Results Page). When that happens, your average review stars from Google My Business are clearly displayed.
Beyond the Knowledge Card, when someone searches for your company name they are also very likely to see your pages on Facebook, Yelp, LinkedIn, MapQuest, vertical directories, and other sites. To the extent that those listings display review stars in the Google SERP, they all work toward establishing your reputation and encouraging people to look at you more closely. Obviously, the more stars that show up on your own Google SERP page, the better you appear to be.
How to get third party reviews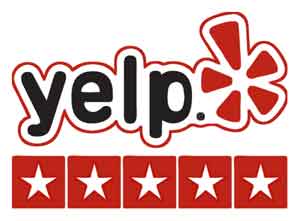 Ideally, your services are so outstanding that your customers are driven by their delight to want to provide positive reviews for you online. Pragmatically, we must admit that an unsatisfied customer feels more motivated to write a scathing review than a delighted customer is motivated to write a positive review. To counteract that, you will want to make it very easy for those happy customers to write about how wonderful you are. There are a few ways you can ethically increase the likelihood that satisfied customers will review you online.
Ask them. If they indicate a willingness to write a review for you, follow-up with an email to them which includes a link directly to your page on the third party site of your choice. In that email, tell them where to find the button or link to click to write a review.
Provide links on your website to your pages on third party sites that display reviews. You may increase the likelihood of people clicking to leave you a review with a call to action suggesting that.
Include a link in your email signature block.  That way, every email you send to a client includes a link to your page at one or more third-party sites that host online reviews.
Write reviews of others yourself. When you write a review for a strategic partner who may refer business to you or to whom you refer business, seeing that review may motivate them to write a review for you in return. The same thing applies to businesses in your networking circle. An honest positive review might make them feel at least slightly obligated to return the favor.
What are first party reviews?
First party reviews are simply reviews that appear on your own website as opposed to anyplace else.  BXB Media wrote a nice comparison of first party and third party reviews. And if you have them coded properly with  schema markup, Google will display your review stars in SERPs.
 A couple of quick warnings are due, though.
You may not apply structured coding reviews you copy onto your website from somewhere else. That violates Google's terms of service and you will suffer for it.
For reasons only known to Google, reviews on your home page will not be reflected with review stars in Google's SERPs. Review stars only appear when your internal pages show up in search results.
If you do it properly, however, those review stars showing up on Google can make a big difference in how many potential customers click on your listing, even if you're not the first one. Here's an example for one of our clients in a local search for floor tile repair. Which listing would you be likely to click on first?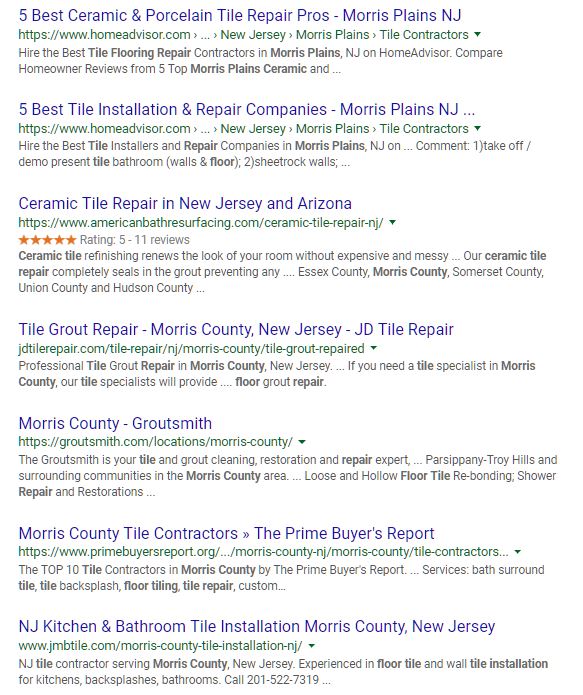 How to get first party reviews
I caution that this needs to be "done right". Potential customers, and Google itself, are aware that you control your website and may be suspicious that the reviews displayed there are somewhat less than honest. So the first rule is to heed the two warnings in the paragraph above. Google explains that:
Google may display information from aggregate ratings markup in the Google Knowledge Cards. The following guidelines apply to review snippets in knowledge cards for local businesses:

Ratings must be sourced directly from users.
Don't rely on human editors to create, curate or compile ratings information for local businesses. These types of reviews are critic reviews.
Sites must collect ratings information directly from users and not from other sites
The last item above means you can't just take testimonials customers have sent to you and enter them onto your website yourself and apply structured coding to them. They really need to be gathered directly from your customer and entered on your web pages automatically. That's to prevent you from cherry-picking only good reviews to display on your site.
The tool we prefer here at Rank Magic is Yext Reviews. As part of their location platform subscription program, they provide an automated review gathering form and a widget on your website. You can direct customers to the form and the reviews they enter will be automatically displayed on whichever pages of your site you have placed the widget on.
An added advantage of the Yext platform is that it alerts you anytime someone writes a review for you in either your first party reviews or any of the third party review sites in their network. I've written recently about how important is is too know when a new review is written so you can replay to it promptly.


Rank Magic can help.
I welcome you to join the conversation in the Comments section below.
Did you find this helpful? If so, please share it with the buttons on the left or the Click To Tweet above.