How Do You Get Your New Website on Google?
Google's the biggest, but …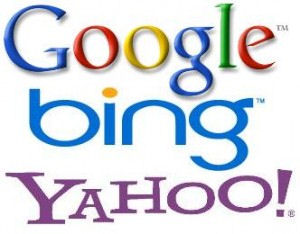 Don't ignore Bing and Yahoo! As of last month, Americans conducted 64% of their searches on Google, 22% on Bing, at 12% on Yahoo. That comes to 98% of all the searches done in the US, so there's no need to worry about any other search engines. But don't dismiss Bing and Yahoo. Even at only 12%, Yahoo handles more than 500 million searches a day in the US.
Fortunately, the things you need to do to get listed on Google are pretty much the same things that Yahoo and Bing need.
How do I submit my site

to Google?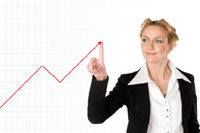 You don't. It's worth repeating: you don't need to submit your site to Google, Yahoo, Bing, or anywhere else. Submitting to search engines is kind of a scam from the past and a persistent myth. It's not necessary as long as you have links to your website from other websites the search engines already know about. We explain that here.
6 Steps to
Get on Google
Figure out what keywords you need to be found for. These are the phrases your customers will use to find what you do or what you sell. Think in specifics. The best  keywords are probably not the one or two word basic searches like limousine. That's too broad. Better would be limousine service in San Diego or car service to O'Hare airport.
Make sure your website is search engine friendly. That means your pages download quickly, your site works well on a phone, navigation is easy to follow, you have a sitemap the search engines can follow to get to all your pages, and so forth.
Block search engine spiders until your site is ready for prime time. Important note: this applies only to brand new websites, not a redesign of an older website. You never want an existing site to become invisible to search engines.
Create lots of content. Make your pages about specific, narrow topics. Focus them on the keywords you determined in step 1, and use logical variations on those phrases. If you do or sell more than one specific thing don't try to cover all of it in one or two pages; flesh out your site with rich, engaging and helpful content.
Keep creating content. Don't feel you need to constantly tweak your pages or freshen them up, instead add new pages. The most natural way to do that is with a blog. Be sure your blog is on your domain and not hosted separately someplace like WordPress.com or Blogspot.com.
Promote your content across the web. The easiest way to do this may be with social media: write posts on Facebook, tweet on Twitter, mention (and link to) your content on Google+, LinkedIn, Pinterest, Instagram, etc. Each one of these gets the word out to a different population, and each adds a new link to your website.
Search Engine Journal has an excellent article on this topic with good explanations about each of these six steps.
That's just the beginning …
These things will get your website into the indexes for Google, Yahoo & Bing, an essential first step to being found easily by customers. Once in the index, you should show up when people search for your keyword phrases. But if you're showing up on page seven or eight, that's probably not good enough. We have lots of ideas in this blog on how search engine optimization works to get you near the top of the rankings. If that's a concern for you, this is a good place to start.
You can share this with friends & colleagues with the buttons on the left or the helpful tweet just above.
Let us know your thoughts in the comments below.