Should You Pay for Citation Management?
Local business search rankings
Before exploring citation management, let's see how it fits in to showing up on Google.
Where you show up in local search when someone searches locally for what you do or sell is a function of three main factors:
Your overall SEO
Proximity to the searcher
Prominence
Much of the rest of my web site deals with overall SEO factors. And of course you have no control over where anyone is when they search. But prominence is something you can control by managing your online citations.
What are citations?
A citation is an online listing of your business on a platform like directories that publishes information on businesses and often online reviews. Here's an example of a citation on Yelp, showing basic contact information plus other valuable material like business hours, reviews, images, and a call to action.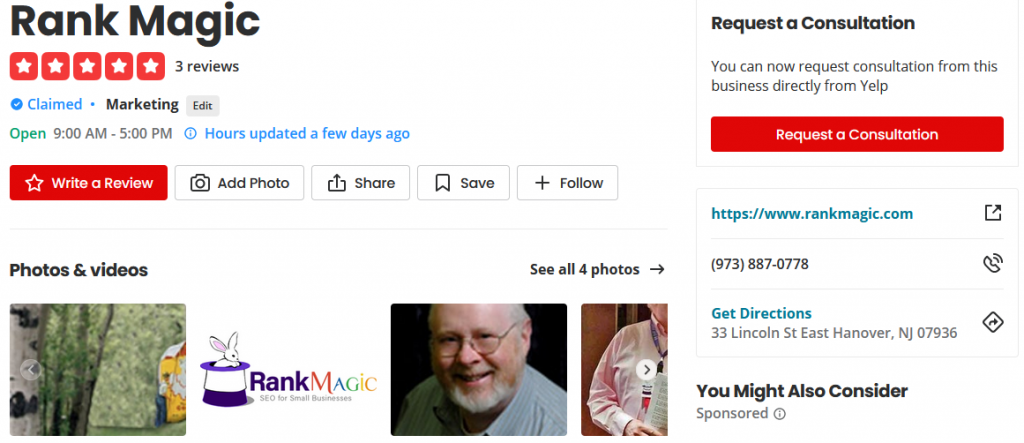 The value of citations for establishing and growing your prominence is clearly explained by Google:
Prominence is also based on information that Google has about a business from across the web, like links, articles, and directories.
How much do citations really matter?
The folks at Moz conducted a study of 115,000 businesses to answer the question: Does listings management still matter for local SEO?
They tracked the results of maintaining listings on just the "big 4" platforms (Google, Apple, Facebook and Bing) compared to managing citations on these sources plus 10 or more directories. You can download the full white paper at the above link, but here are a few of the answers that question.
Improved visibility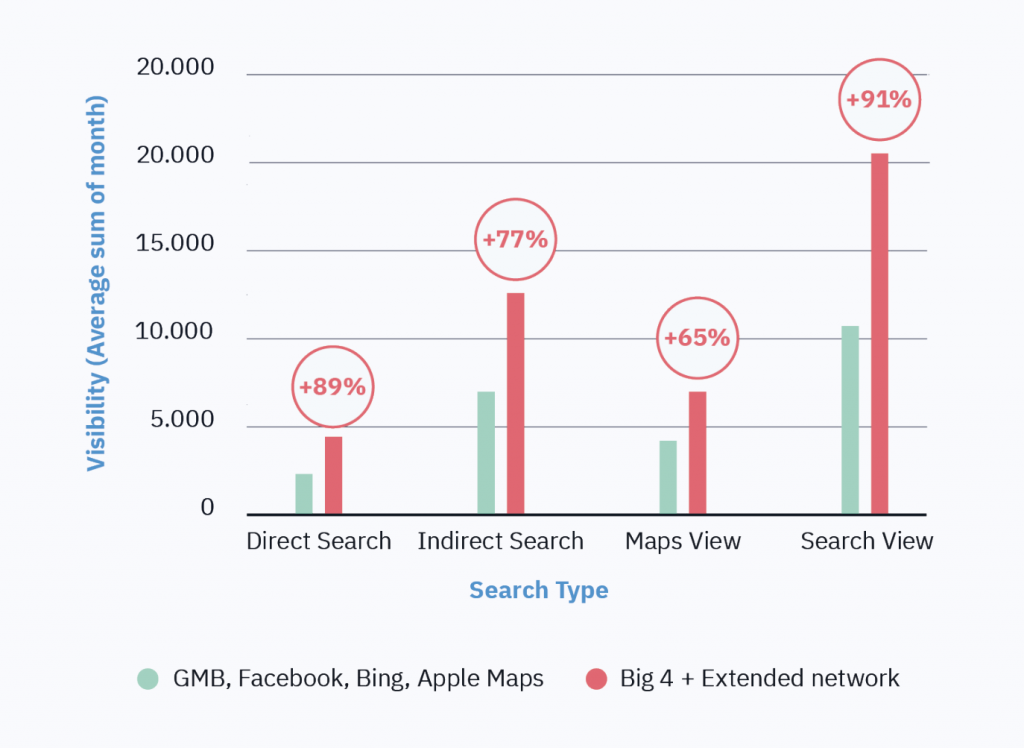 In this chart, Direct Search represents people who searched for a business by its name or address. Indirect Search represents searches for a product or service rather than for a specific business. Maps View represents searches on Google's maps. And Search View represents the number of times a listing was encountered in the normal Google search.
A 91% increase in search views is certainly worth paying attention to.
Improved conversions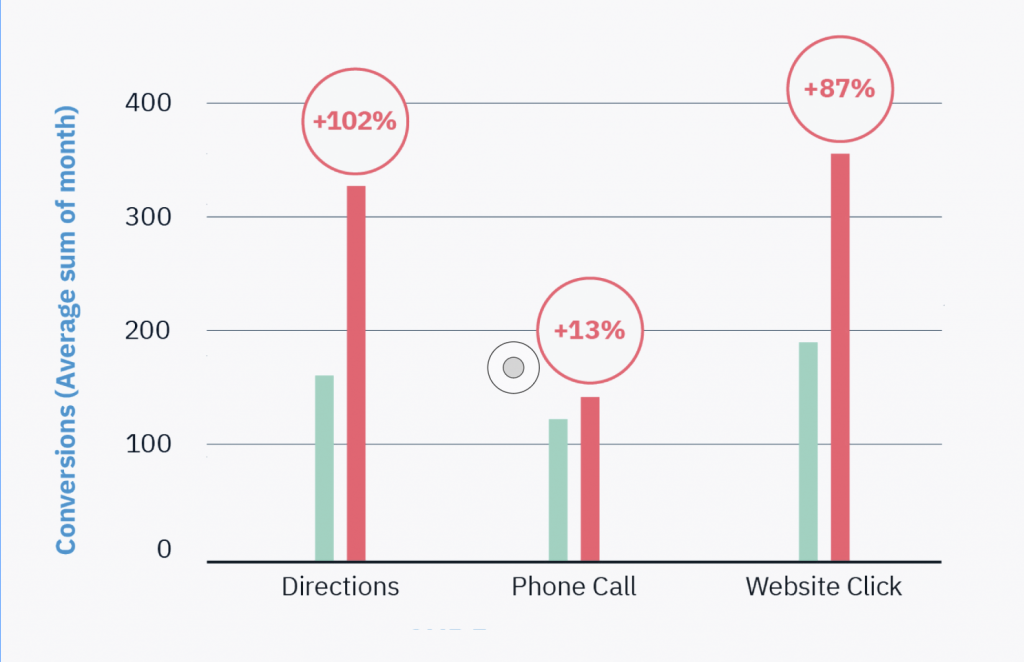 In this chart, were looking at not just the number of people who see a listing, but how many take an action moving them closer to buying. Clicking to initiate a phone call to a business didn't increase by very much, only 13%. But clicking over to the company's website to learn more nearly doubled. And clicking for directions to get to your business even more than doubled.
How many local citations do I need?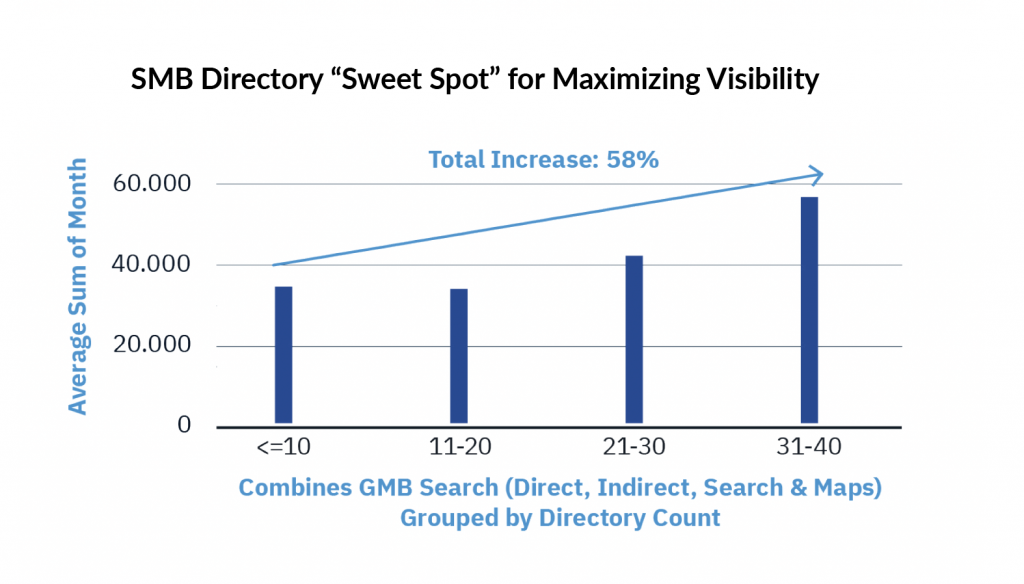 This chart represents an attempt to identify the "sweet spot" in terms of how many local citations are best to have. I think it fails by not including more than 40 citations. That's because we don't know if the increase in visibility would improve even more with additional citations beyond 40. But certainly getting into the 31-40 range adds significant value compared to having fewer citations.
Why do you need citation management?
Isn't it just enough to go out and get yourself listed in the top citation platforms?
Maybe not.
The folks at BrightLocal found that 85% of consumers found incorrect or incomplete information on business listings this year. Perhaps the worst example of that is that more than 80% went to a business only to find that it was closed despite their online citations indicating it was open. A full 63% said that incorrect listing information would prevent them from doing business with a store.
Online citations can change without your knowledge. Information about your business can change and you may neglect to reflect that in your citations. So is it enough to set up your citations and not worry about them moving forward? I don't hink so.
Fair disclosure: I offer citation management services to small businesses, so it would be self-serving for me to insist that you need to hire someone (like, maybe, me) to do that for you. So instead, here's how Moz answered that question.
How do your citations look?
With that said, if you'd like to check the status of your own online citations, there's an easy way to do that right here. Just run a scan from the button below, enter your NAP data (name, address, phone) and see where you're listed, where you're not, and where your listings may be inconsistent.
What are your thoughts about citation management? Do you agree? Disagree? Have questions? Let us know in the Comments section below.
If you think others can benefit from this information, please share it with the buttons on the left or the Click To Tweet above.