Do You Need a Google-Savvy Copywriter?
Effective SEO copywriting on your website is critical
As you know, Google has made a lot of changes to its algorithm over the past year or two, and those changes have been largely focused on content quality. E-commerce sites that consist mostly of product descriptions written by the manufacturers have suffered more than most, but almost any website can be at risk of a copy related slapdown in the Google rankings.
Home grown web copy written by business owners may just not cut it anymore.
What does Google want?
The purpose of search engines is to present people with high quality websites that will provide what they're looking for. Part of being a high quality website is offering unique content that you can't find on any old run-of-the-mill site. A few of the critical factors include
Appropriate keywords in the copy
Unique copy, different from (better than) other similar websites
An excellent user experience in terms of information presentation, ease of navigation, and compelling and engaging copy
Asa a business owner, you need more than that: you need content that makes people want to buy from you and that makes it easy for them to do so. A lot of that comes from the copy on your web pages.
How do you find the right copywriter?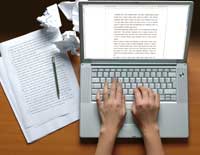 Laura Crest has written an excellent guide to seeking an SEO copywriter and identifying which one is most suitable for you in SuccessWorks, a blog about copywriting.  The main steps she suggests (she explains each in great detail) are:
Review their writing for readability, value, and lack of keyword stuffing.
Ask about their process (and listen for a few danger signals).
Take note of the kinds of questions they ask you.
Ask them about the latest Google updates (Panda & Penguin) to be sure they understand and can explain what they're about.
Laura's article includes a very helpful video by Heather Lloyd-Martin, which I'm sure you'll find valuable. Perrin Carrell over at Authority Hacker has also written a good and thorough introduction to SEO copywriting.
We have some copywriters listed on our website whom we've worked with in the past if you'd like to start your search there.
Your observations & comments are valued — please let us know what you think in the Comments section below.