Is Less Copy Better?
Don't overload your home page
Lots of website owners want to avoid having too much copy on their home page. And while it's true that a home page with an intimidating amount of copy can scare some people away, you don't want to go overboard with the sparse copy principle.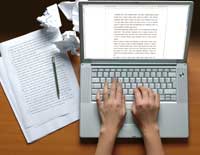 At a minimum your home page needs to indicate clearly and concisely what you do or what you sell. You have about three seconds to convince visitors that they're in the right place. If they have to search to find if you're really the website they're looking for — or worse yet, if they have to click to an internal page to find that out — you've lost them.
As the copywriting experts at Market It Write put it, there are five things you need to know before you pare down the copy on your home page. Then go ahead and make your home page punchy yet still informative enough so your potential customers know it's worth their while to stick around and read more of what you have to say.
If you think this article is helpful, please share it with one of the buttons above or below.