How to Improve Local Rankings in Google
Local search rankings are critical to local businesses

If you're a local business, how you rank in local search can make or break your business. If you're not showing up in Google when people search for what you do, your competitors are eating your lunch. That's why it's important to understand how to improve local rankings in Google and stay competitive.
It's important to understand that there are two different local rankings in Google: the Local 3-Pack and the organic listings. The 3-Pack is the map with (typically) three local businesses beneath it corresponding to map pin icons on the map. The organic listings are typically beneath the Local 3-Pack and are the most common rankings customers consider.
These two parts of a local search result are determined by different local SEO factors. What's most important to show up in the Local 3-Pack isn't the same as what's most important to show up in the local organic results. Let's take them one at a time.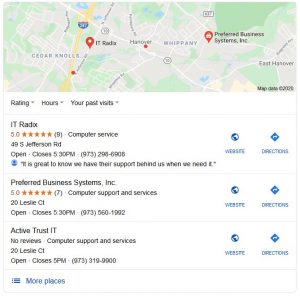 Ranking factors for the Local 3-Pack
#1 Google My Business
This is the most important factor here. Critical to success here is making sure your category is correct, that your NAP (name, address, phone) is consistent with what's on your your website, and that you've filled out as much information as possible. This may be the most important step you can take to improve local rankings in Google.
Related: Don't Show Up Missing on Google My Business!
#2 Reviews and Citations
Positive online reviews are next in line. Make sure you have reviews on your Google My Business page. And not just review stars, but informational reviews; Google considers review comments important.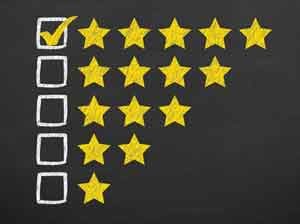 Get reviews on a good number of other sites, too. Facebook, Yelp, DexKnows, SuperPages and CitySearch are good ones. Also any vertical directories you're listed on.  You can suggest that delighted customers review at some of these places. You also need to monitor any reviews you get and respond to them whenever possible. A positive customer-focused response to a mediocre review can leave a very positive impression.
Related: How to Get Online Reviews
Citations that are consistent widely across the web gives Google confidence in your location and phone number. Consistency is critical because if a number of your listings have a previous address, some have a local number and others a toll-free number or fax number, Google isn't confident which is right. If Google isn't sure, it's much less likely to rank you highly.
Related: Understand Common Citation Myths
#3 On-page SEO
This relates to making sure your website is secure, fast, and thoroughly Google-friendly. Make sure keyword placement is appropriate so that Google can tell clearly what each page is all about, and studiously avoid keyword stuffing.
Related: On-Page Optimization
#4 Domain Authority and your link profile
Your authority across the web informs Google about how important your website is. A commonly used measure of this is the Moz Domain Authority. It's derived from a number of factors, the most important being your link profile: the number and quality of other websites linking to you.
Ranking factors for local organic listings
#1 On-page SEO
This is the same as #3 above for Local 3-Pack listings. It's just more important for your organic ranking. It's clearly indispensable for showing up in both parts of the search results.
#2 Domain Authority
See factor #4 above under the Local 3-Pack.
#3 Behavioral factors
A number of behavioral factors can affect your organic rankings in Google. They include the following.
Click through rate reflects the number of searchers exposed to your listing on a search engine results page (SERP) who actually click on your listing. They have looked at your page title and description and concluded that it's a good match for what they're looking for.
Mobile clicks to call are possible only for mobile searchers, since you can't click to call on a computer. But when someone finds you in a search on their phone and clicks to call you, it's a very concrete message to Google that your page is an excellent result for that search. The more that happens, the better.
Bounce rate is related to the click through rate. For either to happen, the searcher needs an impression – you need to show up on the SERP for their search. A bounce occurs when someone is on a SERP with your listing and clicks on you but immediately bounces back to the search results to pick someone else instead of exploring your site. That's a negative ranking factor. They clearly did not like your page or determined it wasn't a good match for what they were looking for. And Google understands that.
Time onsite is something that Google tracks and most people aren't aware of it. When someone clicks on your site and stays there awhile, perhaps exploring additional pages on your website, that tells the search engines that your site was an excellent match for that search. The longer they spend on your site, the more good information they must've found there. That makes you look really good in Google's eyes, and will help you rank higher in the future.
#4 Reviews and citations
See#2 under the Local 3-Pack above. These are important to your rankings in both the organic results and the Local 3-Pack.
To improve local rankings in Google, you really need to pay attention to every one of the above ranking factors.
[
Updated 2/12/21
to include a link to an excellent  Forbes article about NAP consistency.]
If you found this helpful, please share it with the buttons on the left or the Click-to-Tweet above.
Facing challenges with your local search rankings? Start or join a discussion below.